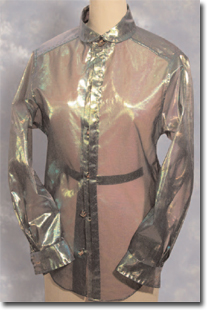 | | |
| --- | --- |
| | Scheduled Class. Access Never Expires! |
Metallic fabrics are intimidating to some, but with just a little knowledge, you can sew on them easily. A tailored dress shirt is a good classic piece that, when made from lame, will serve you for holiday wear whether you wear it with jeans or a ballgown skirt.
This class is expanded information on the section I wrote about in 1,000 Clever Sewing Shortcuts and Tips book.
We will take you through the construction process of making a long-sleeved, yoked shirt with a set-on collar. At the end, you will have learned something while giving yourself a fab shirt to wear on festive occasions!
Skill Level: Intermediate to Advanced.
VIDEO Available!

Click to see a sample video
Class is a combination of PDF downloads and message boards where you can interact with other students and the instructor.
Registration for this class is not available at this time.
Notify Me
when this class becomes available
Instructor: Kenneth King