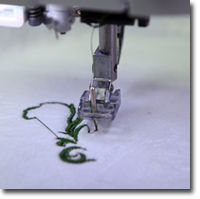 | | |
| --- | --- |
| | Self Guided. Get all the lessons as soon as you register. Never Expires! |
When you're working with your embroidery machine, lots of things can go wrong.
Sometimes it's a mechanical mishap--needles can fall out, thread can get jammed and fabric can rip! Other times "operator error" can cause an embroidery disaster. For example, embroider designs can mysteriously get stitched out upside down, or even worse, it might not even be in the right position!
It's getting close to the holidays... and you know what happens when you're in a hurry and you're trying to embroider gifts galore...
Join me for Club EMB for simple steps to help avoid embroidery disasters... and learn what to do when something does go wrong!
This Club EMB is a reference book class. Lessons will cover specific embroidery disasters and what to do to fix them. Please bring all your tales of embroidery misadventure so we can share experiences and solutions! If you have pictures of embroidery gone wrong, please post them in the class gallery so we can create a "Show and Tell" !
At the end of class you will end up with a valuable reference guide.
Class is a combination of PDF downloads and message boards where you can interact with other students and the instructor.
Registration for this class is not available at this time.
Notify Me
when this class becomes available
Instructor: Jennifer Stern