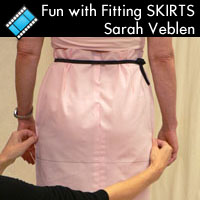 | | |
| --- | --- |
| | Scheduled Class. Access Never Expires! |
Skill Level: Beginners, Intermediate, Advanced
Having a well-fitting basic skirt in your pattern collection provides you with a useful garment to make, and it gives you the starting point from which to develop fun and creative skirt designs. Not only is getting a skirt to fit straight forward, but it's also one of the best and easiest ways to learn fundamental fitting concepts. And having a command of these fitting concepts provides you with an excellent foundation for fitting any other type of garment.
In this 16-lesson class with video, you may use any basic skirt pattern that has darts and fits at the waist. If you prefer to wear the top of your skirt below the waist, don't worry. You'll learn why you want to fit a skirt that at the waist first, and how easy it is to change the pattern for a lowered waist. It doesn't make any difference whether the skirt pattern you select has a facing or a waistband, since you'll learn how to develop both of these waist-finishing elements in the class. Although fitting is easier if you have a fitting buddy - this person does not need to be a sewer - tips on fitting yourself are included in the lessons.
Included in this class is three rounds of muslin fitting and personalized fitting advice!
Topics that are covered in this class are:
Developing a fitting method and understanding fitting basics.
Learning to recognize and identify fitting issues.
The role of the fitting muslin and how to mark it.
Step-by-step instructions with photographs showing how to fit a skirt.
Solutions for fitting different body variations.
Transferring fitting changes to the pattern.
How to make the pattern changes that are most frequently required.
Walking and truing patterns.
Establishing the finished waist so it's flattering and comfortable.
Making an A-line skirt and a pegged skirt.
How to draft a waistband and a waist-facing pattern.
How to develop a princess line skirt from a darted skirt pattern.
How to develop a trumpet skirt silhouette.
How to develop interesting pleated and curved insets at a skirt hemline.
Skirt linings.
Class is a combination of PDF downloads and message boards where you can interact with other students and the instructor. Video Included in the class fee! See sample below
Registration for this class is not available at this time.
Notify Me
when this class becomes available
Instructor: Sarah Veblen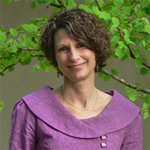 Recent Reviews

by SRG
I need 4 stars for this class! The instructor Sara... more...