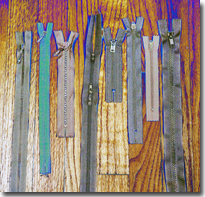 | | |
| --- | --- |
| | Scheduled Class. Access Never Expires! |
It can be a little daunting when it comes to inserting a zipper into a garment you've been working on. Even an experienced sewer may have to think twice before tacking the job! Choosing the perfect zipper treatment depends on two things. What kind of fabric you're working with and where you're inserting the zipper. Join me for All Zipped Up! and learn how to put in a variety of zippers like a front fly and an invisible zipper. You'll also discover notions and techniques that make putting in a zipper a snap!

Listed below are the video titles you'll have access to if you add the video component for only $15 more. Click on Add Video link below, after you add the class.
Video 1: How to do an easy centered zipper
Video 2: How to insert a lapped zipper using Wonder Tape
Video 3: How to do a hand-picked zipper
Video 4: How to insert an invisible zipper in to a side seam
Video 5: How to do an easy front fly zipper
Video 6: How to create a zippered opening for a concealed pocket in a tote bag
Skill Level: Beginner and Intermediate
Class is a combination of PDF downloads and message boards where you can interact with other students and the instructor.
Download the Class Outline WITH OPTIONAL VIDEO!
Registration for this class is not available at this time.
Notify Me
when this class becomes available
Instructor: Jennifer Stern