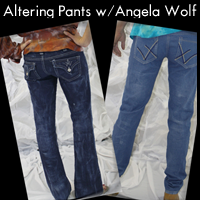 | | |
| --- | --- |
| | Self Guided. Get all the lessons as soon as you register. Never Expires! |
Skill Level: Intermediate, Advanced

Cost: $39.00 (Regular: $59.00)
Add to Cart
Add to WishList
Finally, an alterations class you've been waiting for! Learn to alter your own pants pattern or your favorite RTW pants for a perfect fit!
The "Saggy Butt" ... You will be taught how to alter to resolve the problem of a crotch seam that is too low as well as making adjustments for a flat derriere.
The Gaping Waistband ... A gaping waistband is a very common problem when purchasing pants. You can't go down a size because the hips fit great, what do you do? This lesson will not only teach you how mark your waistband correctly, you will learn a few different options on how to alter you own pants.
Tapering Pant legs ... Alteration #1: Do you ever have a problem in the hip area of your pants where there is way too much fabric? I call this "elephant ears". Just hold the fabric out and you will see the image I am talking about. This fitting issue is common in women with smaller hips or an athletic build. Alteration #2: Learn to taper the legs on your pants in order change the look of your straight leg to a boot leg or skinny bell bottoms. Alteration #3: Want to look 5 pounds skinnier in your pants? See before and after pictures and learn how to make this simple alteration to your pant legs.
Hemming ... Learn the proper lengths for a hem as well as a few trick to the trade on sewing a professional hem.
Bow Legs ... The alterations is geared to sewing from a pattern, learn a simple alteration that will camouflage bow legs.
Bonus: Upload photos of your muslin for personal fitting advice.
Class is a combination of PDF downloads and message boards where you can interact with other students and the instructor.
Instructor: Angela Wolf