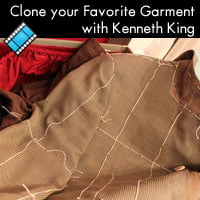 | | |
| --- | --- |
| | Video Class. Start watching as soon as you register. Never Expires! |
Skill Level: Intermediate, Advanced

Cost: $19.99 (Regular: $49.00)
Add to Cart
Add to WishList
You've loved it to death and worn it 'til it's threadbare...but you can't say "Goodbye"!
What do you do? Take this class!
In "Clone Your Favorite Garment", designer Kenneth D. King shows you all you need to know to make a twin favorite garment, including copying the original without taking it apart and turning your garment info into a working pattern. Now you don't have say "Goodbye"! Say "Hello" instead to your new favorite copy!

Bonus: Using the same technique learn how to copy your favorite trousers!
List of Videos
Video 1: Introduction
In this introduction video, Kenneth explains the process for making a copy of an existing garment.

Video 2: Materials
An Overview and explanation of all the materials and supplies you'll need to clone your garment.

Video 3: Marking the Grainline
Kenneth shows you how baste along the grainlines in order to create a grid from which to make a transfer of the markings on the garment.

Video 4: Preparing the Organza
Learn how to prep the organza with a grid representing the grainlines.

Video 5: Transferring Lines to Organza
Learn to transfer all of the seam lines and important information from the garment onto the organza.

Video 6: Sleeve Cap
In this video, Kenneth shows us in detail how to capture the appropriate markings for the sleeve cap onto the organza. This is an important step to insure that the pattern for the garment fits properly.

Video 07- Jacket Front
Kenneth demonstrates how to use the grainlines to create darts and transfer other features of the jacket front to the organza pattern.

Video 08- Transferring to Paper
Kenneth shows how to transfer pattern information from the organza draft to paper, using the lengthwise and crosswise lines as reference points.

Video 09- Truing the Pattern
Kenneth shows how to translate the transferred pattern outline into a cleaner, more workable copy.

Video 10- Correcting for distortion
Double-checking the pattern measurements to match the measurements of the original and making corrections to the pattern.

Bonus Video 01- Clone a Trouser - Preparation
Kenneth shows you how to determine the lengthwise grainline on a trouser and how to handle pleats and darts.

Bonus Video 02- Clone a Trouser - Determining the crosswise grain
Find the crosswise grainline on a trouser at knee level and the crotch of the trouser.

Bonus Video 03- Clone a Trouser - Preparing the Organza, Marking Pockets, Darts and Pleats
Kenneth demonstrates how to transfer the features of the original trouser to the test organza.


This is a Video Class! You can watch them whenver you want and ask questions as you sew-along.
Instructor: Kenneth King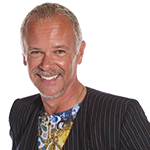 Recent Reviews