10 Clever Techniques To Help You Sew Like a Pro View full class catalog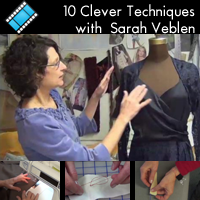 | | |
| --- | --- |
| | Video Class. Start watching as soon as you register. Never Expires! |
Skill Level: Beginners, Intermediate, Advanced

Cost: $10.00 (Regular: $49.00)
Add to Cart
Add to WishList
No matter whether you're new to sewing or have a lot of experience behind you, it's always helpful and fun to learn about sewing techniques. In this all-video class, Sarah will share 10 techniques with you that she uses when making the beautiful garments she creates for herself and her custom clothing clients. Not only will you learn how to execute the techniques, but Sarah will also explain what each technique accomplishes: why it works and when to use it in your garment sewing. The following is covered in the class:
Forming a thread chain - to keep the garment and lining together - to make a button loop closure - to make a lingerie strap
Sewing a sleeveless narrow shoulder with facing
Preventing a back slit from splaying open (off-graining a pattern)
Preventing the top of a slit from ripping out
Sewing spaghetti straps
- using bias fabric strips
- using straight-of-grain fabric strips
Sewing a corded spaghetti strap
Sewing darts
- tapering a dart leg
- sewing fish-eye darts
- dealing with thread tails
Sewing tucks with a continuous thread
Setting in a sleeve
Sewing corners
This is a Video Class! You can watch them whenver you want and ask questions as you sew-along.
Instructor: Sarah Veblen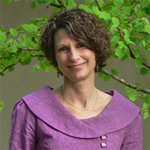 Recent Reviews