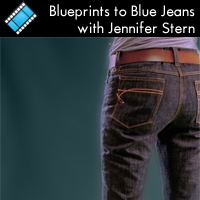 | | |
| --- | --- |
| | Video Class. Start watching as soon as you register. Never Expires! |
Skill Level: Intermediate, Advanced

Cost: $20.00 (Regular: $49.00)
Add to Cart
Add to WishList
Sewing your own Jeans is easier than you think. Join me as I take you step-by-step through the process of fitting, cutting, constructing and finishing your new favorite pair of jeans! I'll start by reviewing how to work with denim and which notions and tools will help you get professional results. Then learn how to adjust your pattern for a great fit. Discover how to make room to sit down in your jeans as well has how to get the waistband to sit where you want it to. After you've achieved a great fit, see how easy it is to add style to your jeans by changing the shape of the front pocket or adding flare at the hem! Finish off your jeans with beltloops and neat buttonhole.
Lesson 1. Overview of denim, threads, needles, notions and tools to get professional results.
Lesson 2. How to adjust the rise on your jeans.
Lesson 3. How to create more "sitting room" by adjusting the back crotch seam.
Lesson 4. How to adjust the waistband and yoke so it doesn't gap in the back.
Lesson 5. How to lengthen or shorten the legs.
Lesson 6. How to add room where you need it (and still keep the side seam straight).
Lesson 7. How to change the shape of the front pockets
Lesson 8. How to Add or remove flare from the hem
Lesson 9. How to topstitch your jeans
Lesson 10. How to construct the front pockets
Lesson 11. How to construct the front fly zipper
Lesson 12. How to construct the waistband
Lesson 13. How to sew on belt loops and tips for buttonholes
Required: Jeans Pattern of your choice. We recommend JStern Womens Jeans and JStern Misses Jeans
This is a Video Class! You can watch them whenver you want and ask questions as you sew-along.
Download the Class Outline This is a video class. With over 2 hours of crystal clear videos! Start watching as soon as you register! See sample below.
Instructor: Jennifer Stern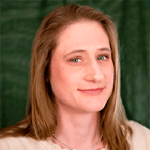 Recent Reviews

by Brandldy
In depth instruction on fitting a jeans pattern. ... more...

by DaisyEsq
This is a very well organized and clearly explaine... more...

by Sue R
I have not finished my jeans yet, but I do have a ... more...