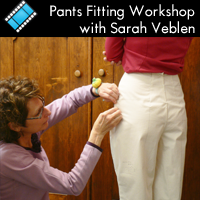 | | |
| --- | --- |
| | Scheduled Class. Access Never Expires! |
Skill Level: Intermediate, Advanced
If you're like many women, you love to wear pants. Pants are pretty easy to sew, but they sure can be difficult to fit! For a lot of women, having a pants pattern that fits is worth its weight in gold. In this workshop, I will help you understand all the ins and outs of how to get a nicely fitting pair of pants.
Included in this class is two rounds of muslin fitting and personalized fitting advice!
I will teach you to recognize the typical fitting issues most women encounter when trying to fit pants, and I'll discuss a wide variety of less common fitting issues as well. In both the videos as well as in the written PDF lessons, you'll be able to see me fit a number of different figure types on real women, not a dress form.
I will teach you a fitting methodology for pants -- how to fit pants -- working with a fitting muslin on the body. You'll be able to apply the information you learn to any pants pattern you choose to work with, whether the pattern is from one of the major pattern companies, an independent pattern company, a self-draft, or pattern software. For my examples, I will use patterns from the major pattern companies as well as the "Eureka! Pants that Fit" pattern, which I helped to produce in collaboration with the Fit for Art pattern company.
The class has approximately 5 hours of high-definition videos, and 6 written PDF lessons. Among the things you'll learn are:
the three different pants silhouettes (trousers, slacks, and jeans)
why she focuses on the slacks silhouette (good every-day pants, neither too baggy nor too revealing)
what markings to put on your test muslin to help you when fitting
how to read the fabric and recognize fitting issues
what to do to solve these fitting issues
the most efficient fitting order
tips on fitting yourself
how to transfer your fitting changes to the pattern
how to make the pattern changes
And don't forget, even after the class is over, you'll have access to all of the Videos and the PDFs forever so you can refer to them whenever you want.
Class is a combination of PDF downloads and message boards where you can interact with other students and the instructor. Over 5 hours of high definition videos are included. See promo below.

Registration for this class is not available at this time.
Notify Me
when this class becomes available
Instructor: Sarah Veblen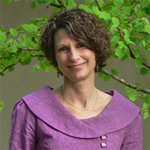 Recent Reviews