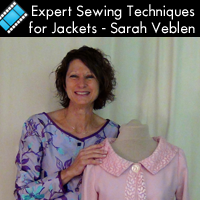 Jackets are a wonderful addition to our wardrobes. But many women shy away from sewing jackets because they don't want a structured blazer-style jacket with traditional tailoring techniques such as pad stitching. Join me as I show you the techniques that I routinely use when constructing a softly tailored jacket, which I think is absolutely perfect for a woman's body.
The sewing techniques I like to use produce a beautiful jacket, both inside and out. My approach is not as fast as bagging a lining, nor is it as involved as traditional tailoring. You'll see that my use of both machine sewing and hand sewing techniques makes a gorgeous jacket that you'll be proud to wear!
Here's what I cover in the almost 5 hours of video:
Selecting fashion fabric and linings
Making the lining pattern with a back pleat
Cutting the fashion fabric and choosing the interfacing(s)
Initial construction
Seam finishes for unlined jackets
Setting in the sleeve
Applying the optional sleeve head
Choosing and applying shoulder pads
Covering a shoulder pad for an unlined jacket
Designing and constructing a roll collar
Making a hanging loop
Cutting, sewing, and applying the lining
Preparing the jacket hem
Sewing the hem
Sewing the lining jump hem
Pressing and other finishing touches
This is a Video Class! You can watch them whenever you want and ask questions as you sew-along.