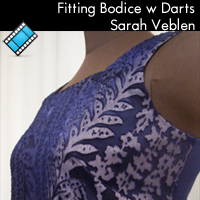 | | |
| --- | --- |
| | Video Class. Start watching as soon as you register. Never Expires! |
Skill Level: Intermediate, Advanced

Cost: $15.00 (Regular: $39.99)
Add to Cart
Add to WishList
Garment sewing is a lot more fun if you have a pattern that fits! Here's your chance to develop a darted bodice pattern that fits and is comfortable. In this class, you'll learn the basic concepts of fitting a bodice, more involved fitting techniques, as well as the necessary patternmaking techniques so that you can effectively make the fitting changes to your pattern. All of these skills can be used when fitting any blouse, shirt, T-shirt, upper portion of a dress, or jacket.
Because gaining an understanding of fitting and patternwork can be challenging, this class presents the information in a number of different formats. There are 27 videos to help you become familiar with the fitting process in general as well as watch a number of different body types being fit. There are 16 written lessons with lots of photographs so you can read about the fitting process and also study fitting a variety of body types. Plus, there are illustrations to help you visualize the most common bodice fitting issues, understand why the suggested "fixes" work, and see what the resulting pattern work is.
You'll also get information about patterns and what size to start with (the pattern is your choice). And even though fitting is easier if you have a fitting buddy, there are tips in both the written and video lessons on how to successfully fit yourself.
Because the class is packed with extremely thorough information, lots of people are able to obtain a great fit on their own. However, if you want personalized fitting help from Sarah, watch for her "Fitting Clinic: Bodice with Darts" right here on Pattern Review!
You'll have access to all of these wonderful resources as soon as you register for the class. And because the class never expires, you can refer to the information whenever you like. Plus, there's a class board where you can ask general fitting and patternmaking questions. Following is a list of topics that Sarah will cover. If you have taken another fitting class from Sarah through Pattern Review, some of the written lesson material on basic fitting and pattern techniques will be the same. However, there is lots and lots of information that focuses exclusively on bodice and sleeve fitting.
Developing a fitting method and understanding fitting basics.
Learning to recognize and identify fitting issues.
The role of the fitting muslin and how to mark it.
Step-by-step instructions showing how to fit a bodice with side bust darts.
Step-by-step instructions showing how to fit a set-in sleeve.
Solutions for fitting different body variations.
Transferring fitting changes to the pattern.
How to make the pattern changes that are most frequently required.
Walking and truing patterns.
Draping a dart rather than using the pattern's dart.
The theory of dart manipulation and dart variations.
And don't forget, even after the class is over, you'll have access to all of the Videos and the PDFs forever so you can refer to them whenever you want.
This is a Video Class! You can watch them whenver you want and ask questions as you sew-along. Over 3 hours of video included!
Instructor: Sarah Veblen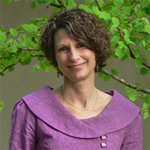 Recent Reviews

by Maggie75
The class is cut up into miniature pieces. Each le... more...

by dkuklinski
I am floored by how much information is in a class... more...

by dqdq
Class was well laid out. Easy to understand. I w... more...

by Liles
Sarah Veblen is the most thorough sewing teacher I... more...

by Liles
Sarah Veblen is the most thorough sewing teacher I... more...