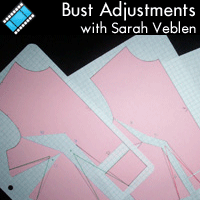 | | |
| --- | --- |
| | Video Class. Start watching as soon as you register. Never Expires! |

Cost: $39.99
Add to Cart
Add to WishList
All commercial patterns are developed for an idealized or standardized figure type. People, however, come in all shapes and sizes, and many sewers find that their bust size and shape don't "work" with the majority of available patterns.
Did you know that most commercial patterns are developed for a bust with a B cup? If your bust size is larger or smaller than a B cup, adjusting the pattern to reflect your bust means that you can work on a pattern size that is appropriate for your upper chest and shoulders. Working in this way and making a full bust adjustment (FBA) or a small bust adjustment (SBA) puts you a big step closer to getting a pattern that fits!
This video class has 9 high-def videos filled with conceptual information about bust adjustments as well as how to make the pattern adjustments. There are also 7 written PDF lessons that support the material covered in the videos, so you can read about bust adjustments, study the step-by-step photographs, and follow along quite easily. Bust adjustments for patterns with side bust darts, armscye princess lines, shoulder princess lines, and bodices with raglan sleeves are all explained in detail. Plus, several variations of the traditional FBA/SBA are included in both the videos and written lessons, as are basic patternmaking practices for truing dart legs, walking seams, and making parallel darts.
In addition, a variety of small-scale bodice patterns are available for you to download -- these are great for practicing bust adjustments before working on your own full-scale pattern.
All of this great information is available as soon as you sign up for the class, and you'll be able to refer to it forever!
This is a Video Class! You can watch them whenver you want and ask questions as you sew-along. Video is included in this class!

Instructor: Sarah Veblen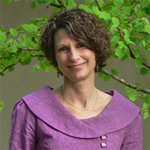 Recent Reviews