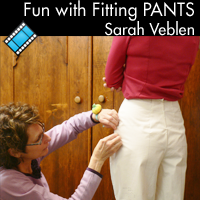 | | |
| --- | --- |
| | Video Class. Start watching as soon as you register. Never Expires! |
Skill Level: Intermediate, Advanced

Cost: $10.00 (Regular: $49.00)
Add to Cart
Add to WishList
Pants are easy to sew, but they sure can be difficult to fit! In this class, you'll learn the basic concepts of fitting pants, how to fit different body types, as well as the necessary patternmaking skills so that you can effectively make the fitting changes to your pattern. The class will focus on fitting slacks -- every-day pants with a fit that isn't as tight as jeans but not as loose as trousers.
Because gaining an understanding of fitting and patternwork can be challenging, this class offers the information in a number of different formats. There are 17 videos that cover the general process of fitting pants, as well as fitting three different body types (flat derrire, round derrire, and generous derrire). There are 6 PDF lessons with information about pattern selection, transferring fitting changes to the pattern, and pattern adjustments; and lots of photographs devoted to fitting each derri?re shape. Because some of the concepts of fitting pants are difficult to understand, there is also a 16-page booklet of illustrations to help you identify the most common pants fitting issues, understand what the corrections are and why they work, and what the accompanying pattern changes look like.
Although fitting is easier if you have a fitting buddy, it is possible to fit yourself. There is an entire video lesson dedicated to fitting yourself.
The class board will be available for general fitting and patternwork questions. For personalized fitting help from Sarah, watch for her Fitting Clinic for Pants.
Following is a partial list of topics that Sarah covers:
Taking measurements and selecting a pattern
Using a fitting grid -- the key to successful fitting
Tips for fitting yourself
The process of fitting pants
Fitting a round derrire
Fitting a generous derrire
Fitting a flat derrire
Transferring fitting changes from the fitting muslin to the pattern
Making basic pattern adjustments
Understanding and solving the 10 most common pants fitting issues
Recommended Pattern: Eureka! Pants that Fit.

This is a Video Class! You can watch them whenver you want and ask questions as you sew-along. Over 5 hours of high definition videos are included. See promo below.

Instructor: Sarah Veblen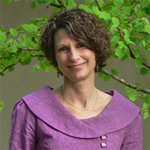 Recent Reviews