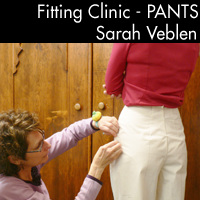 | | |
| --- | --- |
| | Scheduled Class. Access Never Expires! |
Skill Level: Intermediate, Advanced
Developing a pants pattern that fits can be tricky, especially since every figure is different. Even a figure that looks proportionate has it's own unique set of fitting challenges. In addition to fitting the muslin itself, there's also the pattern work involved. Altogether, this is a lot to juggle, and sometimes we just need a little help.
In this Fitting Clinic, Sarah will give you personalized fitting advice and pattern assistance to help you achieve pants that fit comfortably and are flattering. With years of experience under her belt, Sarah knows that assessing fitting and pattern work by means of photos really does work, and this is the next best thing to working with her in person.
During this 3-week Fitting Clinic, you'll get 4 rounds of personalized fitting or pattern advice. You're welcome to ask general fitting and patternmaking questions about pants on the class board at any time. Each time you upload new photos and Sarah gives you personalized advice, this counts as one of your rounds.
Sarah is known for her encouraging attitude and her generosity with her knowledge and time -- she wants you to succeed and enjoy sewing pants! In some instances, she might ask you to make a small adjustment and post a new photo without "charging" you a round of personalized advice. Or she might suggest that you review the class material in "Fun with Fitting: Pants" (which is a prerequisite for this Fitting Clinic) without "charging" you a round. Sarah's goal is the same as yours -- to help you develop a great looking and comfortable pair of pants!
Prerequisite: Fun with Fitting - Pants
Class is a combination of PDF downloads and message boards where you can interact with other students and the instructor.
Registration for this class is not available at this time.
Notify Me
when this class becomes available
Instructor: Sarah Veblen