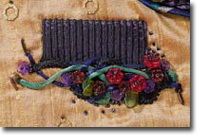 | | |
| --- | --- |
| | Scheduled Class. Access Never Expires! |
Kenneth developed this method of working with trims to create lavish embellishments, based on yardage trim. This trim had the one quality he liked--a regular repeat--which enabled him to use it as a "measuring device". This measuring device enabled him to make mirror images of an embellishment on opposite lapels and other areas. The two questions he asked when experimenting with this were: What to do with the ends? And, how to make the finished piece not look like purchased trim?
This method was outlined in a "Master Class" article by Kenneth in the August/September 2003 issue of Threads Magazine.
In this class we will cover how to manipulate the trims to create the embellishment, by making a sample of the work. The student will create a sample of the embellishment which may be adapted to attach to the flap of an evening bag.
Class is a combination of PDF downloads and message boards where you can interact with other students and the instructor.
Registration for this class is not available at this time.
Notify Me
when this class becomes available
Instructor: Kenneth King