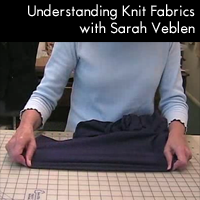 | | |
| --- | --- |
| | Scheduled Class. Access Never Expires! |
Class Runs : Oct 3rd 2016 - Nov 02 2016

Cost: $15.00 Plus $45.00 for Kit
Add to Cart
Add to WishList
There's no mystery why knit garments are so popular. They are extremely comfortable to wear, tend not to wrinkle, and are easily laundered. Plus, they're easier to fit than wovens.
With an increasing variety of knit fabrics available, lots of sewers find knits irresistible. The irony is that those simple knit garments can actually be quite frustrating to make if you're not accustomed to working with knits.
This class will teach you to:
identify different knit types
accurately gauge the amount of give/stretch of any knit fabric
understand the relationship between knit type and sizing of garments
predict how spandex further affects fit
select the best sewing machine needle for any type of knit
select appropriate threads
determine when to use a serger and when to use a straight-stitch machine
determine the best serger stitch and threading configuration
get good results when using a straight-stitch machine
Once you've learned these basics, and develop a feel for the different types of knit fabrics and how they behave, the world of knits will be yours to explore with confidence. And that's when you'll discover how fast it is to make most knit garments -- and how forgiving knits are to work with.
Kit is required for this class which contains the following:
swatches of 18 different knit fabrics
3/8 yard of interlock
3/8 yard of rib knit
one 12" x 12" sample of jersey with spandex
two 75/11 stretch sewing machine needles
two 80/12 ball point sewing machine needles
one half-scale t-shirt pattern
NOTE:
Because of the recent hike in the shipping rates, there will be an additional charge of $15 for kits shipping outside of the United States.
Click on video below to see whats included in your kit
Class is a combination of PDF downloads and message boards where you can interact with other students and the instructor. VIDEO!
Listed below are the video titles you'll have access to as soon as you register for this class.
Determining if a knit contains spandex
Assessing knit fabrics
Checking stitches for holes
Seam allowances when constructing with a serger
Machine basting with a zigzag stitch
Getting a neck binding to lay flat
Amount of stretch in 3-thread and 4-thread serger stitches
Taking out serger threads
Avoiding broken stitches using a straight-stitch machine
Getting more stretch out of a zigzag stitch
Reducing the pressure on the presser foot
Graining knit fabrics
Sewing buttonholes in knits
"Stretch" stitches vs. zigzag stitch on a conventional machine
Add to Cart Add Class & Video to Cart for $0.00 more
Instructor: Sarah Veblen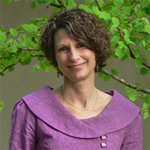 Recent Reviews