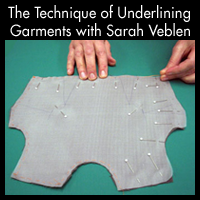 | | |
| --- | --- |
| | Scheduled Class. Access Never Expires! |
Definition: Underlining -- a layer of fabric basted directly to the wrong side of the fashion fabric to enhance the look and performance of the fashion fabric.
Garments are not commonly underlined in sewing today, except in some bridal gowns. Yet, it's one of the most useful sewing techniques going, and not just for special occasion garments. An underlined garment wears longer and tends not to wrinkle. But underlining is also used to add body to the fashion fabric -- this can be as subtle as underlining a sheer fabric with georgette for opacity, and as substantial as underlining wool with flannel for warmth.
If sewing apparel is your passion, you'll be amazed how the technique of underlining improves your garments. Chances are, once you've underlined your first skirt, you'll be hooked. That's not to say that you'll underline each and every garment you sew. But you'll have this valuable technique in your sewing arsenal -- and you'll be able to judge when to employ it and bring your garments to another level.
This class will teach you:
what the difference is between lining, underlining, and interlining
how to decide when to use an underlining
which fabrics to use as underlining
how to cut out and apply underlining to the fashion fabric
how to make underlining do double duty as lining
The kit is an integral part of the class and is required. You will be provided everything you need to underline two half-scale garments in order to learn and practice the techniques described in the lessons. Kit contents include:
3/8 yard silk organza
3/8 yard lightweight wool
3/8 yard silk charmeuse
3/8 yard silk georgette
2 high-quality hand-sewing needles
1 spool silk thread
1 half-scale skirt pattern
1 half-scale bodice pattern
Skills Required: Basic sewing techniques. Sewers of all levels will benefit from this class. While many beginners may think this is an advanced class, underlining is one of those things that if you learn it early on, you'll learn to utilize it from the get-go.
Class is a combination of PDF downloads and message boards where you can interact with other students and the instructor.
Registration for this class is not available at this time.
Notify Me
when this class becomes available
Instructor: Sarah Veblen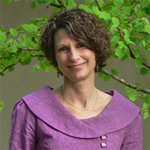 Recent Reviews