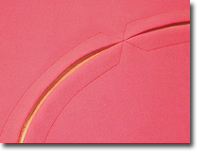 The strap seam is a hallmark of couture construction. Its only function is decorative, but it can add interest to an otherwise plain garment. In this class, we will cover the straight strap seam for lined garments, as well as the straight seam for unlined garments. The seam for unlined garments generally uses a contrasting fabric, which will also serve as the seam finish on the back side of the seam.

From there, we will cover the plain, and the lined curved strap seam, shown in the photo. This seam is beautiful for use in constructing princess seams, because of the extra emphasis it adds to the lines of the garment. Learn these four seams, for they will add distinction to any garment you wish to use it on!

Class is a combination of PDF downloads, boards and Interactive real time chat sessions with the instructors.