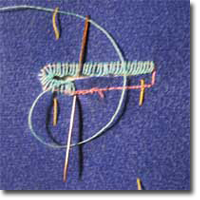 | | |
| --- | --- |
| | Scheduled Class. Access Never Expires! |
While our sewing machines are essential, so is hand-stitching. You'll be amazed at the impact that carefully applied hand-stitches can have on a garment.
The foundation of any couture garment is control - of design; of fabrication; of engineering and construction; of fit and proportion. And one of the ways to achieve that strong foundation is with a secure grounding in the hand stitches that lie at the heart of any couture garment. From simple basting, to joining fashion fabric and underlining layers, to the perfectly spaced prick stitches of a hand-picked zipper, the full range of hand stitches at the couture dressmaker's disposal permits the essential control that produces a successful garment. Included in this course will be:
The Basting Stitch
Hand Overcasting
The Catch Stitch
The Slip Stitch
The Fell Stitch
The Invisible Hem Stitch
The Back Stitch
The Prick Stitch
The Thread Chain
The Thread Bar
The Blanket Stitch
The Buttonhole Stitch
We'll learn how to create these stitches, and just as importantly, where to apply them. We'll learn which thread to use, when to use single or double thread, when and how to use beeswax, and so on. And I promise that you'll quickly see the difference in the quality of the garments you sew.
Skills Required: Passion for learning! Absolute beginners will benefit from this class. No prior experience is needed.
Class is a combination of PDF downloads and message boards where you can interact with other students and the instructor.
Registration for this class is not available at this time.
Notify Me
when this class becomes available
Recent Reviews

by pammieh
Fab Class from Susan Khalje online at PR. Susan's... more...

by bunz
I would give this class 5 stars if that was an opt... more...