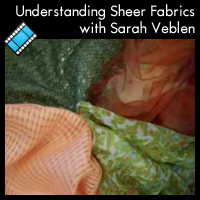 | | |
| --- | --- |
| | Scheduled Class. Access Never Expires! |
Class Runs : Sep 28th 2016 - Oct 28th 2016

Cost: $15.00 Plus $59.00 for Kit
Add to Cart
Add to WishList
How many times have you been in a fabric store and seen a sheer fabric that you just had to touch? Sheer fabrics are indeed alluring: light and airy, with so many interesting textures and variations.
But how many times have you decided not to buy a sheer fabric because you didn't really know what type of garment to make from it? Or were uncertain how to handle the fabric. Or decided that you already had enough sheer fabric in your stash that you'd never gotten around to sewing.
Whether you're a novice or seasoned sewer, this 15 lesson class will delve into every aspect of sheer fabrics so that you're eager -- and confident -- to start sewing with them. This class will cover the following information, plus more:
How to make sheer fabrics work in your every-day wardrobe -- no need to save them for special occasion garments.
How to make sheer fabrics modest to wear -- including great information about manipulating the color of sheer fabrics.
Design ideas and types of garments to make using sheer fabrics.
How to control sheer fabrics when cutting them out -- even the hard-to-handle ones.
What kinds of seams and seam finishes to use -- to get good results and solve the problems sheer fabrics pose.
How to choose the best hem to use -- and tips on sewing the different types of hems.
Resource list of where to mail-order interesting sheer fabrics.
Kit is required for this class.
Note:
Because of the recent price increase for international shipping, all kits shipping outside of US and Canada will need to pay $15 more to cover our costs. The class kit contains:
30 swatches of interesting sheer fabrics, in a variety of fiber contents -- cotton, silk, rayon, linen, wool, and polyester -- and all kinds of interesting weaves, textures, and surface designs. Each swatch will be described in the class lessons, including information on sewing the fabric as well as design ideas for using the fabric in really wearable clothing.
2 half-scale skirt patterns for a six-gore skirt and a circle skirt.
Enough fabric to sew the skirt samples (2 different silk chiffon prints and 2 colors of China silk for linings). These half-scale garments are a great way to practice seaming and hemming techniques. Plus, part of the fun of sheer fabrics is changing the overall effect by simply changing the color you put under it.
Check out the contents of the kit in this short video below.
Class is a combination of PDF downloads and message boards where you can interact with other students and the instructor. Streaming video is included in this class. See sample below
Video Titles
Assessing how sheer a fabric is.
Assessing how stable a sheer fabric is.
Assessing the bias grain of a sheer fabric.
Tips for working with chiffon bias strips.
Assessing if lining seam allowances will show.
Choosing fabrics to attain opacity.
Checking for opacity on the body.
Finding the cross grain.
Graining sheer knit fabrics.
Marking the bias grain on a pattern.
Graining slippery sheer woven fabrics.
Sewing a curved seam on drapey fabrics.
Using a "bridge" fabric at the start of a seam.
Sewing "in space".
Sewing a French seam.
Hand sewing a catch stitch.
Stabilizing seams.
Add to Cart Add Class & Video to Cart for $0.00 more
Instructor: Sarah Veblen