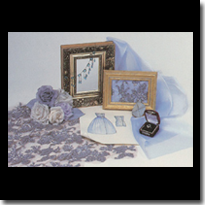 | | |
| --- | --- |
| | Scheduled Class. Access Never Expires! |
If ever the phrase "divide and conquer" applied, this is the time and the place! And while the end result of sewing a wedding gown is spectacular and full of all the best emotions, it can be a little intimidating. Like all garments, it is the sum of its parts -- no more, no less. And while some of those parts are unfamiliar, they're not difficult, and once divided into a number of manageable steps, the project becomes an exciting and rewarding challenge.
So, we're going to take a look at the elements of a wedding gown -- showing you what you need to know. Let's begin with a quick overview of what we think is essential:
1. the muslin
2. fabrics
3. under linings
4. boning
5. lace
6. closures
7. bustling

Each of the above will be given its own lesson; in some cases, there are samples from your kit to further guide you. A class kit will include fabric samples for fashion fabrics and under linings, boning samples, lace samples, bridal buttons and button loops.
Class is a combination of PDF downloads and message boards where you can interact with other students and the instructor.
Registration for this class is not available at this time.
Notify Me
when this class becomes available