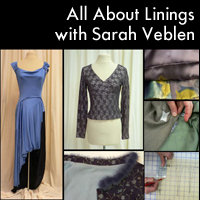 | | |
| --- | --- |
| | Scheduled Class. Access Never Expires! |
Using a lining in a garment does a number of things. It makes the garment hang better, enables the garment to slide over the body or other garments, finishes off the interior of the garment beautifully, and often prolongs the life of the garment.
This 16-lesson class will teach you what fabrics to use for linings, how to select the best lining fabric for a particular garment, how to draft a number of lining patterns, and how to care for lined garments.
Instructions will also be given for the following:
sewing linings into skirts and pants with a waistband
sewing linings into skirts and pants with a facing
sewing the slit of a lined skirt
sewing the kick pleat of a lined skirt
attaching a lining to a jacket
hemming a jacket lining by hand and by machine
using a lining in place of a facing
developing a lining for very full skirts and dress
All sorts of other tips will be offered as well.
Increasing you knowledge of lining fabrics and lining techniques will take your garment sewing to the next level!
The optional kit contains more than a dozen different lining samples (8" x 5"). Shipping Note: Because of the recent increase in the USPS prices, there will be an extra charge of $15 for all the kits shipping outside of the United States.
Class is a combination of PDF downloads and message boards where you can interact with other students and the instructor. Online Video is included in this class. See preview below
Video Titles
Fell stitching the lining to the zipper tape.
Sewing a catch stitch.
Forming a thread chain.
Adding ease to the lining above the slit.
Determining the lining hem.
Cutting the lining to expose the slit facing.
Forming the extension side of a kick pleat.
Securing the lining to the jacket at the underarm.
Securing the lining to the jacket at the shoulder.
Forming a jump hem in a jacket lining.
Finishing the jacket facing with a Hong Kong binding.

Registration for this class is not available at this time.

Notify Me

when this class becomes available
Instructor: Sarah Veblen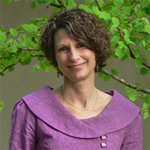 Recent Reviews