Please follow these guidelines when posting on PatternReview.com.
Respect - Please show respect toward each others opinions in all posts -- in your tone and your language. The PatternReview.com community is a global community and its members have divergent views and different ways of looking at every issue. There is nothing wrong in agreeing to disagree. Discussion is great but has to be respectful. A lack of respect towards other Members, the Site, or its Operators will result in your posts being deleted or your account being suspended.

Respect means many things to many people so let me add some more detail:

Your posts should not contain offensive or sexually explicit language. A good rule of thumb is to post material which you would not mind being attributed to you in the offline world.
Your posts should not discuss politics, legislation & religion that engender strong opinions and hurt feelings.
Your posts should not disparage, browbeat or harass other members into agreeing to your views. If you disagree with someones posts try to understand their point of view before trying to explain yours. DO not attack them via the message boards.
Your posts should not contain false statements, accusations or unsubstantiated assumptions. If you don't have the information refrain from making baseless public announcements.
Always use mixed case in your posts. Using ALL CAPITAL LETTERS is equivalent to shouting.




Vendor Bashing - If you have a dispute with a merchant please deal with them directly, through government authorities or other consumer advocates. PatternReview.com does not mediate and cannot assist you in resolving your issues with merchants. Do not represent PR or use the threat of posting negative content on PR as a means to force vendors into resolving your issues.


Disputes - If you have disputes with other members discuss them PRIVATELY. PatternReview.com is not an appropriate forum to resolve personal disputes and will most probably result in aggravating the situation further. If you want a resolution - work it out one on one. Private disputes which are made public will be deleted.


Commercial Use - Do not post advertisements or links with the purpose of advertising your commercial products or services.


Offsite Linking and Posting Guidelines

A review or a tip at minimum needs to answer the questions asked in the template and should be a minimum length (please see table below). Relevant off site links from within the review are acceptable as long as the review posted on PatternReview.com answers the questions in the template and can stand alone in the case any off site links become unavailable.

Pattern and Book Reviews : 250 words
Notion, Sewing Machines, Web site, Stores, Class and Expo Reviews: 100 words
Sewing Tips: 50 words
Reviewing your own products/store/website etc
PatternReview is a place for people to post and read unbiased reviews. If you are the owner/creator of a pattern/product/store etc, we believe it is not possible for you to write a completely impartial review. So please refrain from writing reviews for your own pattern/website/store etc. You can however request your customers to write reviews of your patterns. Reviews of self-drafted patterns are ok as long as you are not selling the pattern.


PatternReview Classifieds are for buying and selling sewing related products/services. Relevant links from within the classified are acceptable.
On the Forums or Reviews, external links to your own site are fine as long as the post's intent is not just to sell something. Polls are fine as long as they are not commercial. Thus, market research of a commerical nature is not acceptable.
Every reviewer can have a signature, which can list the sites they are affiliated with -- commercial or not, however they cannot be clickable links.
A member's profile can have a link to their website -- commercial or not.



The PatternReview.com Acceptable Use Guidelines are an addition to the User Agreement. Violation of the Acceptable Use Guidelines or the User Agreement will result in your posts being deleted and possibly your account being suspended. These guidelines may be updated from time to time and it is your responsibility to check them to ensure that you are not in violation.
Online Class
Expert Sewing Techniques for Jackets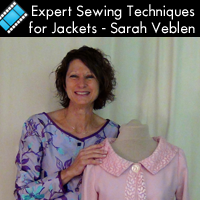 Online Class
Restyling with Exposed Zippers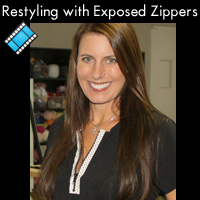 Christine Jonson Fitted Jacket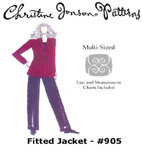 Pattern Details
THE BASIC SLEEVE, a CD book by Kenneth King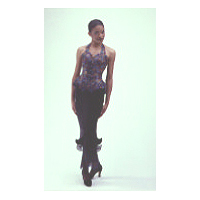 Pattern Details