PatternReview.com User Agreement
Hello, and welcome to PatternReview.com! PatternReview.com provides Users with access to sewing related information in a collaborative fashion. This includes but is not limited to a variety of means, such as discussion fora, chats and reviews for information sharing.

Please read this User agreement. By using PatternReview.com, you agree, without limitation or qualification, to be bound by, and to comply with, this Agreement and any other posted guidelines or rules applicable to any PatternReview.com feature or service. If you don't agree to any part of this agreement please do not use PatternReview.com.

1. Amendments to this Agreement.
We reserve the right to make changes to this User Agreement and other site guidelines at any time. Any modification to this Agreement shall become effective immediately upon posting to PatternReview.com. You will be responsible to check this Agreement from time to time to see if there are any changes to that may affect your use. Continued use of PatternReview.com after any such change constitutes acceptance of all changes. If you do not agree with this Agreement in full, you must immediately terminate your use of this site.

2. Definitions.
"Advertisers" means parties that pay to advertise on PatternReview.com.

"Content" means copyrighted and patented materials and techniques owned or displayed under license by PatternReview.com, its parents, subsidiaries, affiliates, officers, employees, consultants and teachers advertising, feature or group of features or which is posted to the PatternReview.com site by any User, including all reviews, discussions, images, text, software and other content located on PatternReview.com, whether generated by Users or by PatternReview.com.

"Friends of PR" means members who have enrolled in PatternReview.com's paid membership program. Friends of PR members receive access to features and benefits not availble to members who do not pay. This program is a recurring program.

"PatternReview.com" means any content, service, or property accessible at the Internet domain patternreview.com or otherwise displayed by OSATech, Inc., a Massachusetts corporation. This includes, but isn't restricted to, all text, images, and software.

"Users" or "you" as used herein refers collectively to Friends of PR, and to all paying and non-paying PatternReview.com users and Advertisers alike.

3. Use of our Web site.
PatternReview.com is intended for personal use by individuals, and as a commercial medium for our Advertisers. Any unauthorized commercial use of PatternReview.com or resale, repurposing, or reproduction of PatternReview.com services or Content is expressly prohibited. This includes providing links to specific Content related pages other than our home page for any commercial purpose that has not been specifically authorized by us in writing as well as using the site to contact other Users for commercial purposes.

You understand that all Content, whether publicly posted or privately transmitted, is the sole responsibility of the person from which such Content originated. This means that you, and not PatternReview, are entirely responsible for all Content that you upload, post or otherwise transmit via our Web site. PatternReview does not control the Content posted via our Web site and, as such, does not guarantee its accuracy, integrity or quality.

You agree to follow the Posting Guidelines.

The following conditions shall govern Users' use of PatternReview:
You agree not to reproduce, duplicate, copy, sell, resell, assign, license, sublicense or exploit any portion of the Service, use of the Service, or access to the Service, including but not limited to, any advertising contract, or other right of commercial use.
You agree not to attempt to bypass the authentication and security mechanisms maintained by PatternReview.com or reverse engineer the software on this Web site.
You agree not to post any Content on this site that (a) infringes any third-party intellectual property or publicity/privacy rights, (b) violates any applicable law or regulation, (c) impersonate any person or entity, including, but not limited to, a PatternReview official or another User, or falsely state or otherwise misrepresent your affiliation with a person or entity, (d) is defamatory, harassing, obscene or child pornographic, (e) contains any viruses, Trojan horses, worms, time bombs, cancelbots or other computer programming routines that are intended to damage, detrimentally interfere with, surreptitiously intercept or expropriate any system, data or personal information, (f) is otherwise tortious or criminal, (g) is related to any service in connection with any junk e-mail, spam, or unsolicited messages, commercial or otherwise.
We reserve the right, in our sole discretion and at any time, to make any changes, modifications, amendments, alterations, and or deletions to any Content, and to any services, including advertising, which we make available at PatternReview.com.
PatternReview.com offers various parts of the content in RSS format so that users can embed individual feeds into a personal website or blog, or view postings through third party software news aggregators. PatternReview.com permits you to display, excerpt from, and link to the RSS feeds on your personal website or personal web blog, provided that
Your use of the RSS feed is for personal, non-commercial purposes only
Each title is correctly linked back to the original post on PatternReview.com and redirects the user to the post when the user clicks on it
You provide, adjacent to the RSS feed, proper attribution to 'PatternReview.com' as the source
Your use or display does not suggest that PatternReview.com promotes or endorses any third party causes, ideas, web sites, products or services
You do not redistribute the RSS feed
Your use does not overburden PatternReview.com's systems.
PatternReview.com reserves all rights in the content of the RSS feeds and may terminate any RSS feed at any time.

From time to time, PatternReview.com offers contests and promotions that may include prizes from PatternReview.com or its advertisers and affiliates. Please note:
Each contest or promotion may have rules governing participation eligibility and requirements to win a prize. In most cases, registered members of PatternReview.com are eligible to participate. In some cases activity on external social networks and/or blogs may be necessary to be eligible. Please see the requirements of the specific contest or promotion.
PatternReview.com reserves the right to cancel and/or change the terms of a contest/promotion at its discretion.
4. Privacy.
PattermReview.com reserves the right to reveal any data provided by a User or other information in its possession in cooperation with a request or investigation by any governmental body or governmental agency, or in response to a subpoena issued by any governmental body or governmental agency;
PatternReview.com reserves the right to examine any data provided by a User in the course of responding to any claim by a third party that a User is using the Services in connection with an infringing, illegal or improper activity or that the data infringes rights of the third party.
PatternReview.com reserves the right to disclose the identity of a User, or information allowing identification of a User, in response to request for identification in connection with claim of Copyright or Trademark infringement by the User.
Content posted or uploaded by Customers may be stored on computers maintained by and in control of PatternReview.com's Service Provider. Any expectation of privacy by a User is limited by and subject to the scope of the Service Provider's privacy policies.
5. Risk of Loss.
All items purchased from PatternReview.com are delivered pursuant to a shipment contract. This means that the risk of loss and title for such items pass to you upon our delivery to the carrier.
6. Disclaimer of Warranty.
You understand that you are using PatternReview.com on an "as is" and "as available" basis. PatternReview.com makes no warranty, express or implied, including without limitation any warranty of merchantability, fitness for a particular purpose, or non-infringement.
7. Limitation of Liability.
PATTERNREVIEW.COM SHALL NOT BE RESPONSIBLE FOR ANY DAMAGE CAUSED BY LOSS OF ACCESS TO, OR ALTERATION (INCLUDING DELETION) OF ANY FEATURES OR CONTENT PUBLIC OR PRIVATE, INCLUDING REVIEWS, FAVORITES, PATTERN CATALOGS ETC.
PATTERNREVIEW.COM SHALL BEAR NO LIABILITY FOR OR ANY PRODUCTS OR SERVICES PROVIDED HEREUNDER, INCLUDING ANY LIABILITY FOR NEGLIGENCE. IN NO EVENT SHALL EITHER PARTY BE LIABLE TO THE OTHER FOR ANY CONSEQUENTIAL, INDIRECT, SPECIAL, OR INCIDENTAL DAMAGES, INCLUDING WITHOUT LIMITATION LOST PROFITS, EVEN IF PATTERNREVIEW.COM HAS BEEN ADVISED OF THE POSSIBILITY OF SUCH POTENTIAL LOSS OR DAMAGE. THE FOREGOING LIMITATION OF LIABILITY AND EXCLUSION OF CERTAIN DAMAGES SHALL APPLY REGARDLESS OF THE SUCCESS OR EFFECTIVENESS OF OTHER REMEDIES.
SOME STATES DO NOT ALLOW THE EXCLUSION OR LIMITATION OF INCIDENTAL OR CONSEQUENTIAL DAMAGES, SO THE ABOVE LIMITATION OR EXCLUSION MAY NOT APPLY TO SOME CUSTOMERS. IN NO EVENT SHALL PATTERNREVIEW'S TOTAL LIABILITY TO A USER FOR ALL DAMAGES, LOSSES, OR CAUSES OF ACTION EXCEED THE AMOUNT PAID BY THAT CUSTOMER OR VISITOR TO PATTERNREVIEW.COM FOR THE SERVICES DURING THE YEAR PRIOR TO ACCRUAL OF THE DAMAGES, LOSSES, OR CAUSES OF ACTION. USERS FURTHER AGREE THAT PATTERNREVIEW.COM, ITS EMPLOYEES AND AGENTS WILL NOT BE LIABLE FOR ANY LOST PROPERTY OR DATA OF THE CUSTOMER OR ANY CLAIM OR DEMAND AGAINST THE USER BY ANY OTHER PARTY.
8. Indemnity.
By using the services of PatternReview.com you agree to indemnify, defend and hold harmless PatternReview.com, its parents, subsidiaries, affiliates, officers, employees, consultants and teachers from and against any claim or demand, of physical, material, monetary or other nature, including reasonable attorneys' fees, made by any third party due to or arising out of your use of PatternReview.com, its Online Sewing Classes, or any other Content provided herein, the violation of this Agreement by you, or the infringement by you, or any other user of your account, of any intellectual property or other right of any person or entity.
9. Termination.
PatternReview.com reserves the right to ban or block access to any user including any Advertiser. PatternReview.com also reserves the right in its sole discretion to refuse or cancel usage, membership or advertising campaigns, paid or unpaid, Free, FoPR Trial, FoPR, MoPR memberships with or without refund at any point in time . In all cases refund amounts will never exceed the amount paid by customers. Additionally, all refunds will be at the discretion of PatternReview.com.
The Friends of PR program is a recurring membership program and members will be notified at their current email address prior to renewal. If they do not cancel their subscription, they will be charged and their membership term will renew. If you are a Friends of PR paying member, and your membership is cancelled either by yourself or by PatternReview.com, PatternReview.com may at its sole discretion refund the unused period of membership on a prorated basis.
In the case of Online Sewing Classes, if you have purchased the classes directly from PatternReview.com, you may choose to cancel your class prior to its start date for a partial refund at PatternReview.com's discretion. There are no refunds on any Online Sewing Class kits.
10. Ownership; Intellectual Property.
You are responsible for and retain all rights to the content you post on PatternReview.com. By posting on PatternReview.com you grant PatternReview.com, a non-exclusive, royalty-free, perpetual, irrevocable, and fully sub-licensable right to use, reproduce, modify, adapt, publish, translate, create derivative works from, distribute, and display such content throughout the world in any media. PatternReview.com needs these rights because without them it could not perform various necessary functions such as displaying this Content on the website to all of its users. Since these rights are non-exclusive you retain your rights to use the Content you are posting to PatternReview.com in any other way you see fit.
You grant PatternReview.com and its affiliates, parents and partners the right to use the name that you submit in connection with such Content, if they choose. You represent and warrant that you own or otherwise control all of the rights to the Content that you post; that the Content is accurate; that use of the Content you supply does not violate our site's policies and will not cause injury to any person or entity; and that you will indemnify PatternReview.com or its affiliates, parents and partners for all claims resulting from Content you supply.
If you have purchased any digital Content from PatternReview.com including but not limited to (Patterns, Tutorials, E-Books, Sewing Classes, Sewing Workshops) you are granted one (1) non-transferable license for non-commercial, personal use of such Content. Any deliberate misuse, reproductions or misappropriation of the Content violates Federal copyright and patent statutes and shall result in claims for damages as outlined in those statutes.
11. United States Copyright Act Designation.
PatternReview.com respects the intellectual property of others and we ask our Users to do the same. Please do not post any Content that is copyrighted by others. If you believe that your copyrighted work has been infringed, and you want us to take down or disable the infringement, please contact the following PatternReview.com designated agent to receive notifications of claimed infringement under the United States Copyright Act, or violations of other laws or regulations, both foreign and domestic, by its Users:
An electronic or physical signature of the person authorized to act on behalf of the owner of the copyright interest;
A description of the copyrighted work that you claim has been infringed upon;
A description of where the material that you claim is infringing is located on the site, including the URL, if applicable;
Your address, telephone number, and e-mail address;
A statement by you that you have a good-faith belief that the disputed use is not authorized by the copyright owner, its agent, or the law;
A statement by you, made under penalty of perjury, that the above information in your notice is accurate and that you are the copyright owner or authorized to act on the copyright owner's behalf.
Notices should be addressed as follows:
Copyright Agent
OSATech, Inc.
PatternReview.com
235 Summer Road, Ste 203
Boxborough, MA 01719-2028
Tel: 978-608-2224
E-mail: [email protected]
PatternReview.com Users who are found to repeatedly violate copyright rights of others may have their access to all services terminated.

12. Choice of Law and Jurisdiction.
Interpretation and enforcement of this Agreement shall be governed by the laws of the Commonwealth of Massachusetts, excluding its choice of law rules. All Users consent to personal jurisdiction in the federal and state courts of the Commonwealth of Massachusetts, for any action arising out of or relating to their use of the Services. The federal and state courts of the Commonwealth of Massachusetts shall have exclusive jurisdiction over all such actions. In any such action, the prevailing party shall be entitled to recover all legal expenses incurred in connection with the action, including, but not limited to, its costs, both taxable and non-taxable, and reasonable attorney's fees.

13. Severability; Entire Agreement; Nonwaiver.
If any provision herein is held to be invalid or unenforceable for any reason, the remaining provisions will continue in full force without being impaired or invalidated in any way. This Agreement constitutes the entire agreement between the parties pertaining to the subject matter hereof, and supersedes in their entirety any and all written or oral agreements previously existing between the parties with respect to such subject matter. Failure by PatternReview.com to enforce any provision of this Agreement shall not be construed as a waiver of any provision or right.
Online Class
Fit the Tee to a T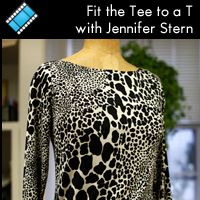 Online Class
10 Clever Techniques To Help You Sew Like a Pro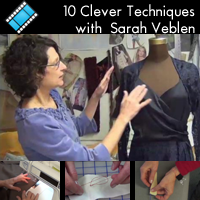 You Sew Girl Beach Bag Pattern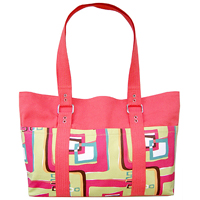 Pattern Details
Sewing Workshop Origami Skirt Pattern

Pattern Details