| | |
| --- | --- |
| | |
Pattern Review
10/17/13 9:39 PM
U-Handbag: Lisa Lam - It's a Cinch Tote It's a Cinch Tote
Pattern Description: There's a big description on the pattern's website. For me, it was a cool looking bag that I found while reading the Girls in the Garden blog. Lori made the bag for the Super Online Sewing Match and when I saw her vinyl version I knew I wanted to make it too! Pattern Sizin... more...
5 comments
Pattern Review
10/14/13 9:22 PM
Simplicity - 1609 Misses Dress
Pattern Description: It's a mod 60's style dress---a reissue of a Simplicity Jiffy pattern. Pattern Sizing: 6-22. I made view A with the Peter Pan collar in a 14. Did it look like the photo/drawing on the pattern envelope once you were done sewing with it? I think mine looks classier. :) We... more...
9 comments
Store Review
10/12/13 9:46 PM
Haberman Fabrics
I've decided to start writing reviews of the stores I've been to! Yay! Dates visited Thursday, Sept 26, 2013, and once before a year prior. I learned about this store at the American Sewing Expo and have visited their booth at the expo since 2010. Last year I decided it was time to visit thei... more...
2 comments
Pattern Review
10/12/13 9:27 PM
Vogue Patterns - 1351 Misses Dress
Pattern Description: From the pattern envelope: "Lined, pullover dress has draped front neckline, close-fitting, bias front bodice and skirt, and invisible side zipper." Pattern Sizing: 6-22. After making a muslin I decided the 14 in the bust grading to 12 in the waist and hips was right (I know... more...
12 comments
Class Review
8/14/13 9:21 PM
More Knits
Dates This class started August 2, 2013 and officially ends August 14, 2013. I'm not sure how frequently this class is offered, but it was paired with Understanding Knit Fabrics. I was happy I took the two classes back-to-back. I mainly took More Knits so that I could learn the proper way to... more...
Conversations I am participating in
About Me
Pet Peeves: When the size 12 is in one envelope and the 14 is in another....darts, interfacing, side zippers, wadders. Also I ultimately hate it when I rush through a project. Favorite Pattern Bran... more

| | |
| --- | --- |
| | my Blog |
| | follow me |
| | send me a PM |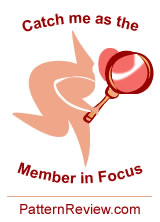 My Reviews
patterns: 122
stores: 1
notions: 2
classes: 2