| | |
| --- | --- |
| | |
Pattern Review
6/16/11 9:06 AM
Vogue Patterns - 8634 Misses' Top
I'm not sure yet how much I like this top. I see a combination of issues -- fabric choice, length and bust fit -- that I should address if I make this again. Pattern Description: Close-fitting pullover tops A, B, C in two lengths have collar and stitched hems. A. short sleeves. B. three-quarter sl... more...
11 comments
Pattern Review
6/15/11 9:21 AM
Simplicity - 2339 Misses' & Miss Petite Shirts
Pattern Description: Misses/Miss Petite shirt with individual pattern pieces for A, B, C, D cup sizes. It is a classic shirt pattern with darts for shaping and variations. Pattern Sizing:6-8-10-12-14. I used size 10, ending with 14 at the hip. I used the A cup front. Did it look like the photo/dra... more...
25 comments
Pattern Review
6/14/11 6:27 PM
Vogue Patterns - 8392 MISSES'/MISSES' PETITE TOP
This top was the second item in my recent sewing rampage. I started out with very easy patterns and easy-to-sew fabric in order to sustain my momentum. Pattern Description: Pullover top has front pleats: A: short sleeve. B: pleated lower sleeve, casing and elastic sleeve finish. C: cut edge upper,... more...
20 comments
Pattern Review
6/14/11 10:00 AM
Vogue Patterns - 8689 Misses' Shirt
Yes, I know I haven't done a review in a very long time. However, having rediscovered my sewing mojo, I've made 15 garments in the past two months. I thought it time to start reviewing some of the fabulous patterns I've tried. Pattern Description: From the Vogue website: Fitted shirts A, B, C, D, ... more...
15 comments
Store Review
4/10/10 7:07 PM
The Cloth Merchants -A Fine Fabric and Button Studieo
*** THIS STORE HAS CLOSED ***For a few years, this store was open sporadically within a sewing machine store. In March 2010, they moved into their new, permanent location at 81st and Harvard in Tulsa where they are open Tuesday through Saturday. Have you bought anything from this store? If yes wer... more...
Conversations I am participating in
About Me
A retired IT geek, I'm enjoying having lots more time to sew. I made my first doll dress at the age of four and I've been sewing ever since, mostly for myself and my daughter. I have a respectable fa... more

| | |
| --- | --- |
| | send me a PM |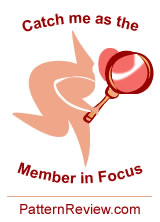 My Reviews
patterns: 116
s/m: 1
stores: 3
notions: 1
fabrics: 1