On April 24th PR members came together to celebrate our 14th anniversary in Los Angeles, California!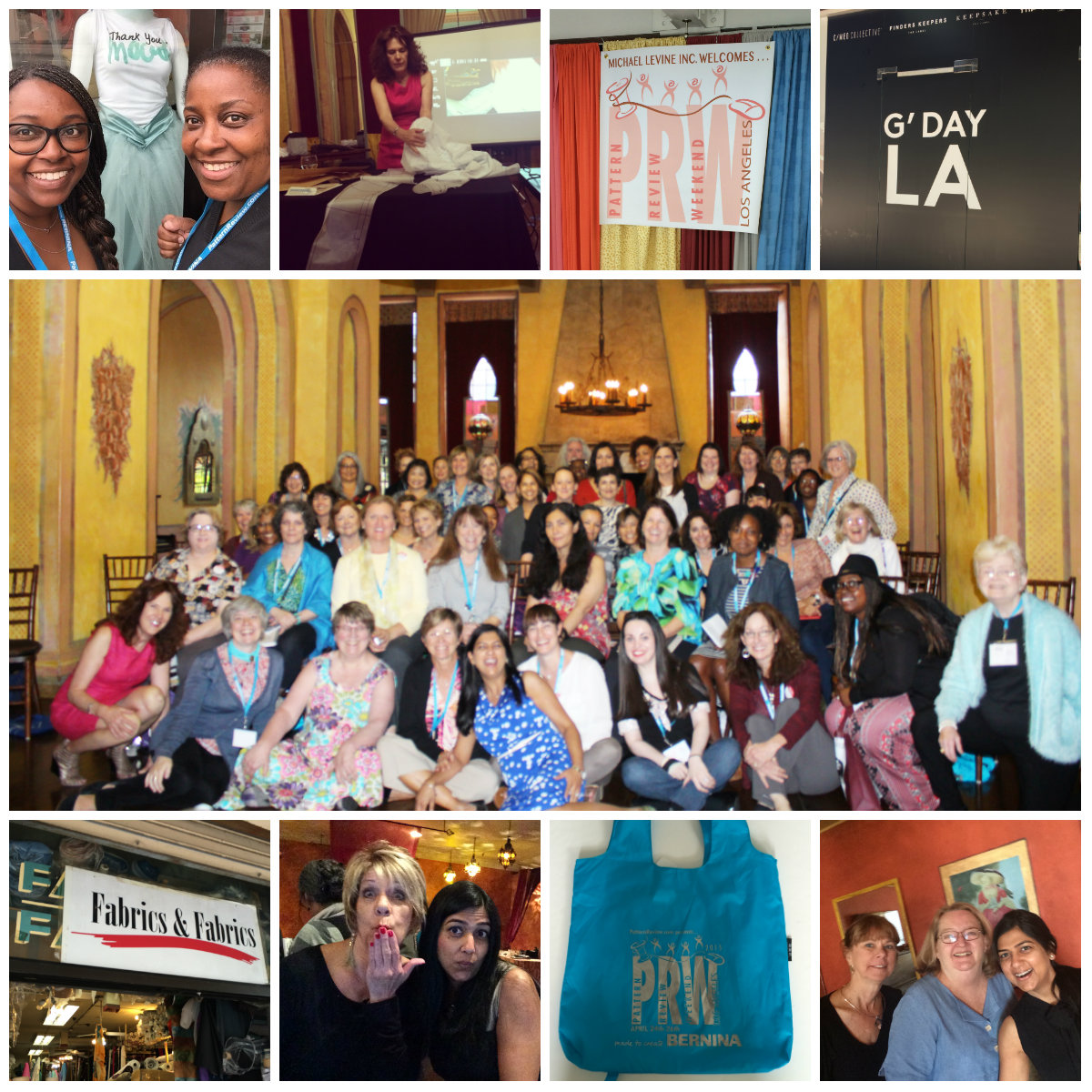 And what a celebration it was!
The Historic Figueroa Hotel was our HQ this year. The architectural details inside the hotel just won us over, not to mention the courteous staff!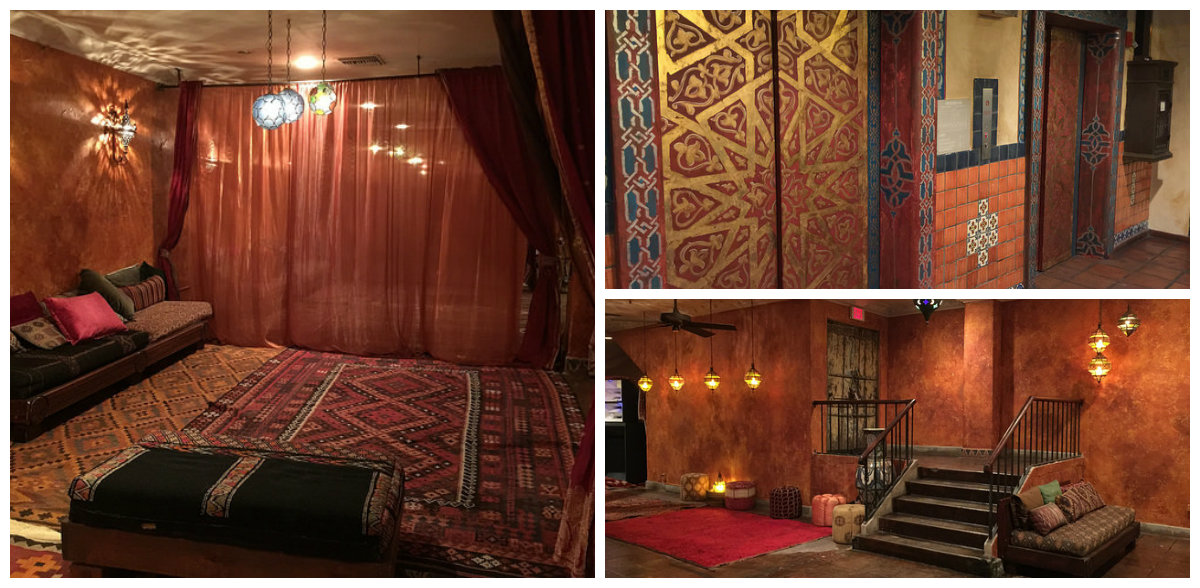 Welcome!
On Thursday afternoon, our registration volunteers Sherril, Jeanette and Cassidy handed out these super awesome PR weekend goodie bags along with the fabulous booklet to all the attendees. Nancy stepped in too when we needed help. Thanks Nancy! Karina and Janna made the booklet this year and it was awesome. Thank you to all the amazing sponsors for the goodie bag donations. Bernina, Threads, Catina of Fashion Hack Patterns (she made that cute I HEART PR pincushion for everyone!), McCalls and Jalie Patterns. Everyone loved the bags.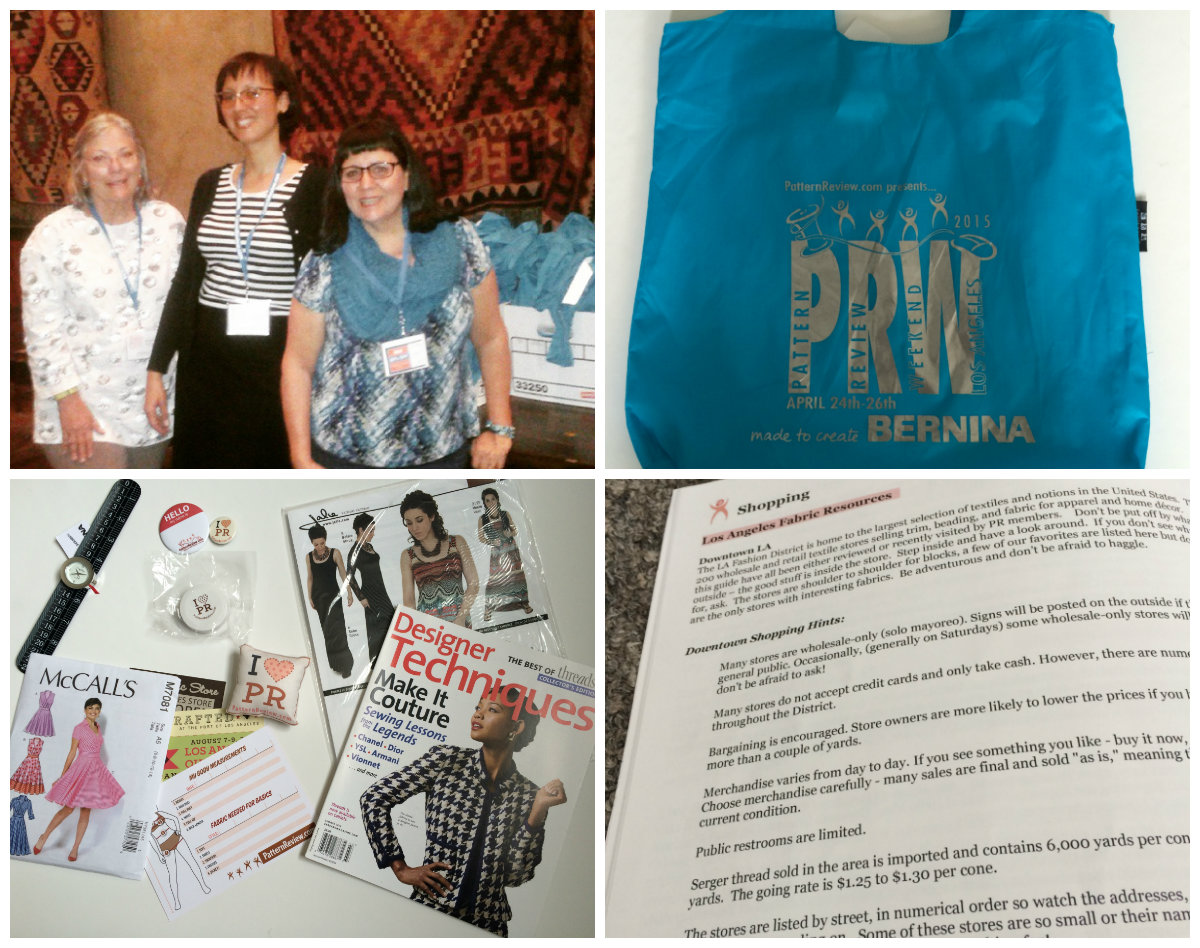 Fabric Shopping
Friday was Shopping Day so we started bright and early at 9:00 That was my first chance to meet everyone and it was amazing to see so many familiar faces and a lot of first time attendees I enjoyed meeting. Together we hopped on the Shopping buses and headed to Mood and Michael Levine's.
Larry, owner of Michael Levine's was kind enough to give us several behind-the-scene tours of the warehouse which was fascinating. When he asked "Any questions?" we said "Did you make that shirt?" in a true PatternReview fashion :)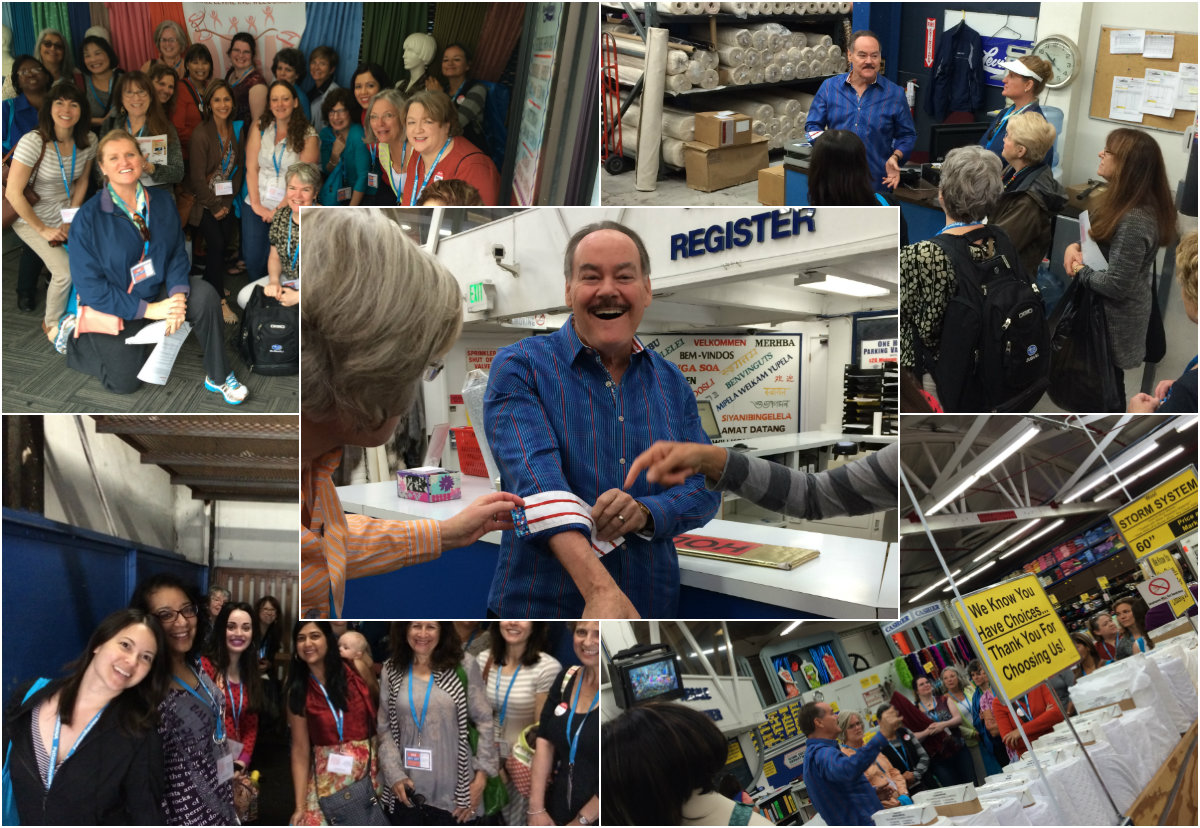 Fabric shopping is always nice but it is so much more enjoyable when you shop with friends. A lot of us ended up buying similar fabrics and some of us kept adding to our fabric piles after seeing what others have (raising hand here).
Because the LA Garment District is spread out, we split into smaller groups and walked to many other nearby stores while the other bus explored the Fabulous "The Fabric Store" and Mood Fabrics, both of which gave us a very warm welcome.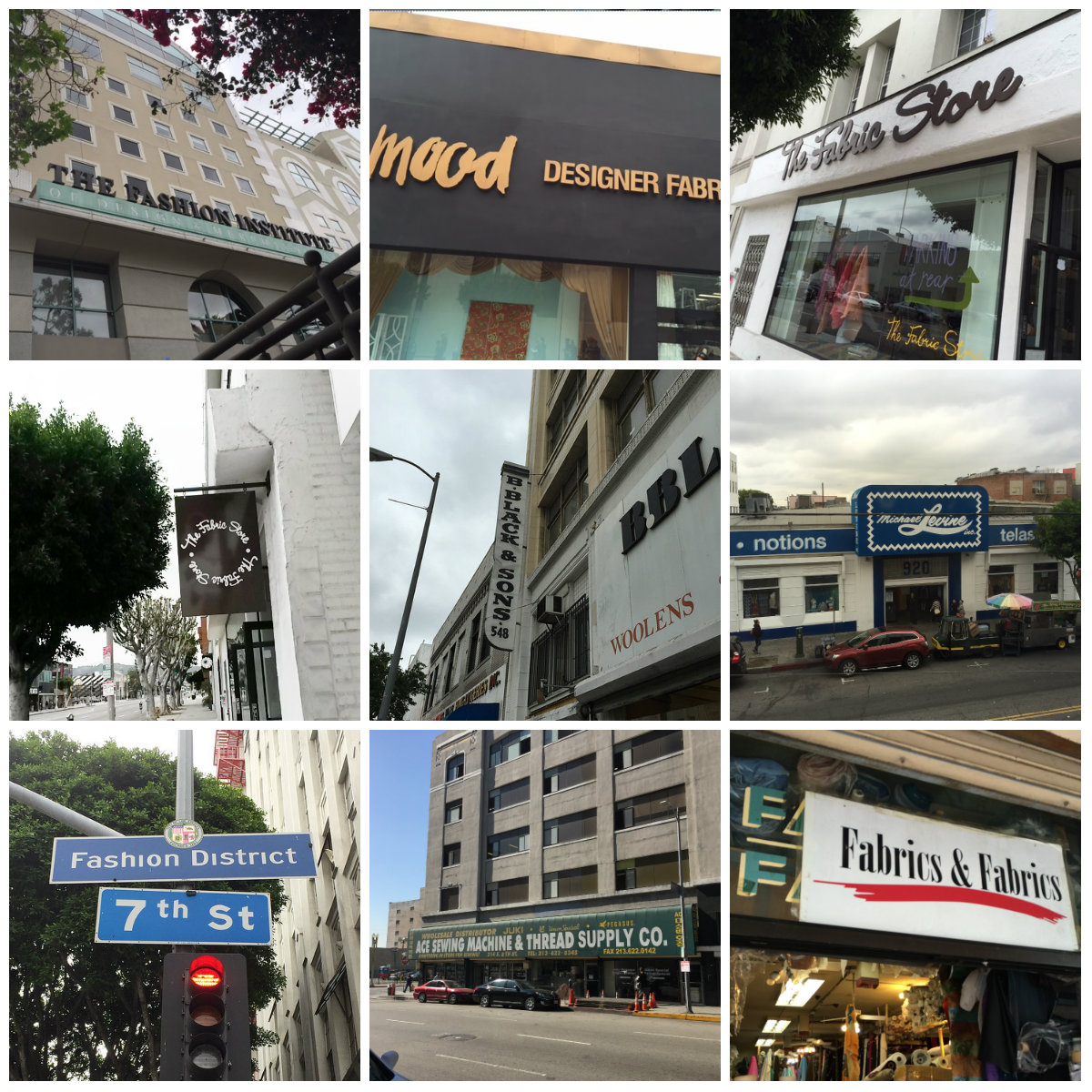 Kathi and I parked ourselves in the Pattern Bar - yup, a bar decorated with sewing machines! How could we not? We routed and re-routed both the buses for the next few hours sitting right here with our "liquid" lunch :)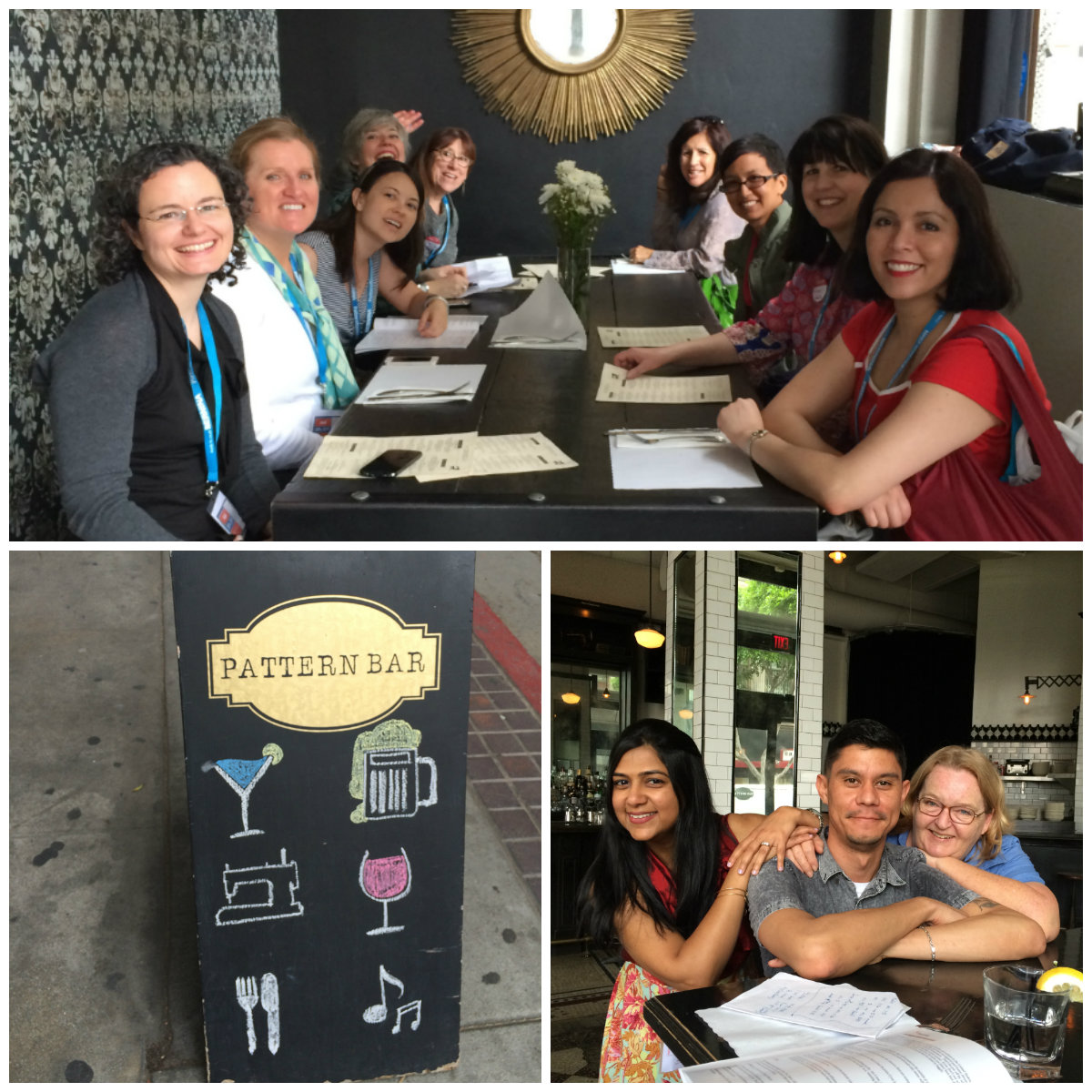 Bernina Mixer
We made it back to the hotel just in time for our Bernina sponsored Mixer in Club Tangir at Hotel Figurora. We got a chance to mingle, and admire each others gorgeous outfits. Some of us also test drove State of the Art Bernina machines brought in by Russ from The Sewing Arts Center.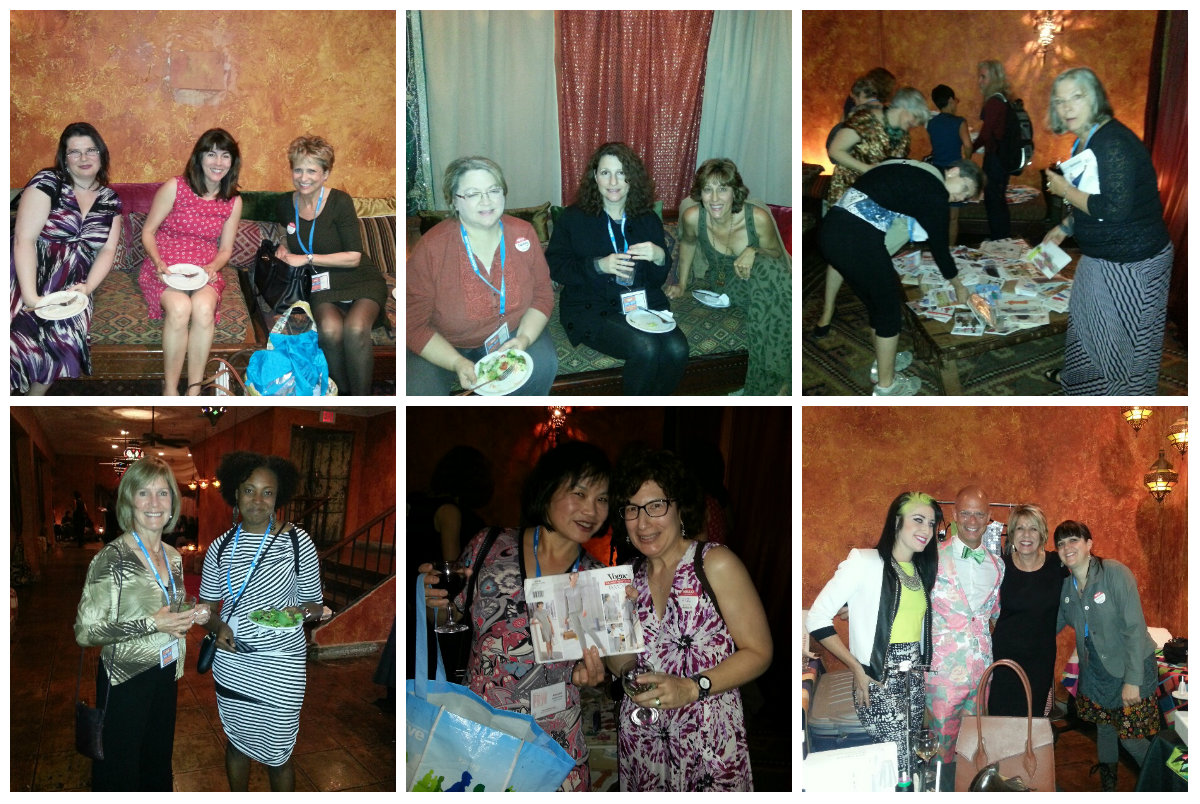 The Handbag Contest
After everyone gathered, I welcomed everyone to the event and started the Handbag contest. We had asked the contestants to make a handbag incorporating either PatternReview or California in their bag. The contestants wowed us with their creations and Cara, Russ and Ivy had the difficult task of selecting one winner who was going to win a brand new Bernina 800 DL Serger!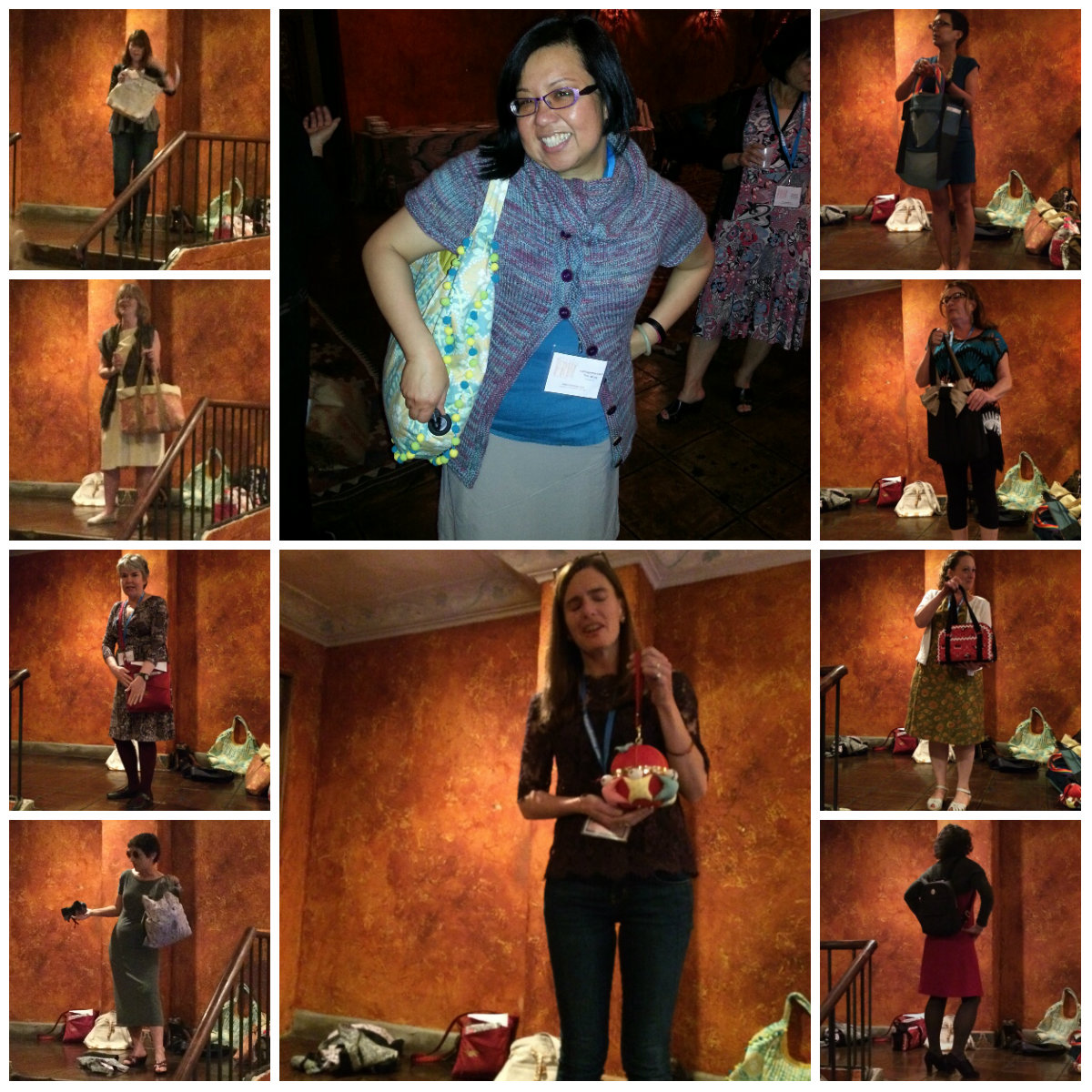 The lovely Melissa won the contest with her cute frog purse who was wearing a Friends of PR Hat
Cute!!!! Congratulations Melissa.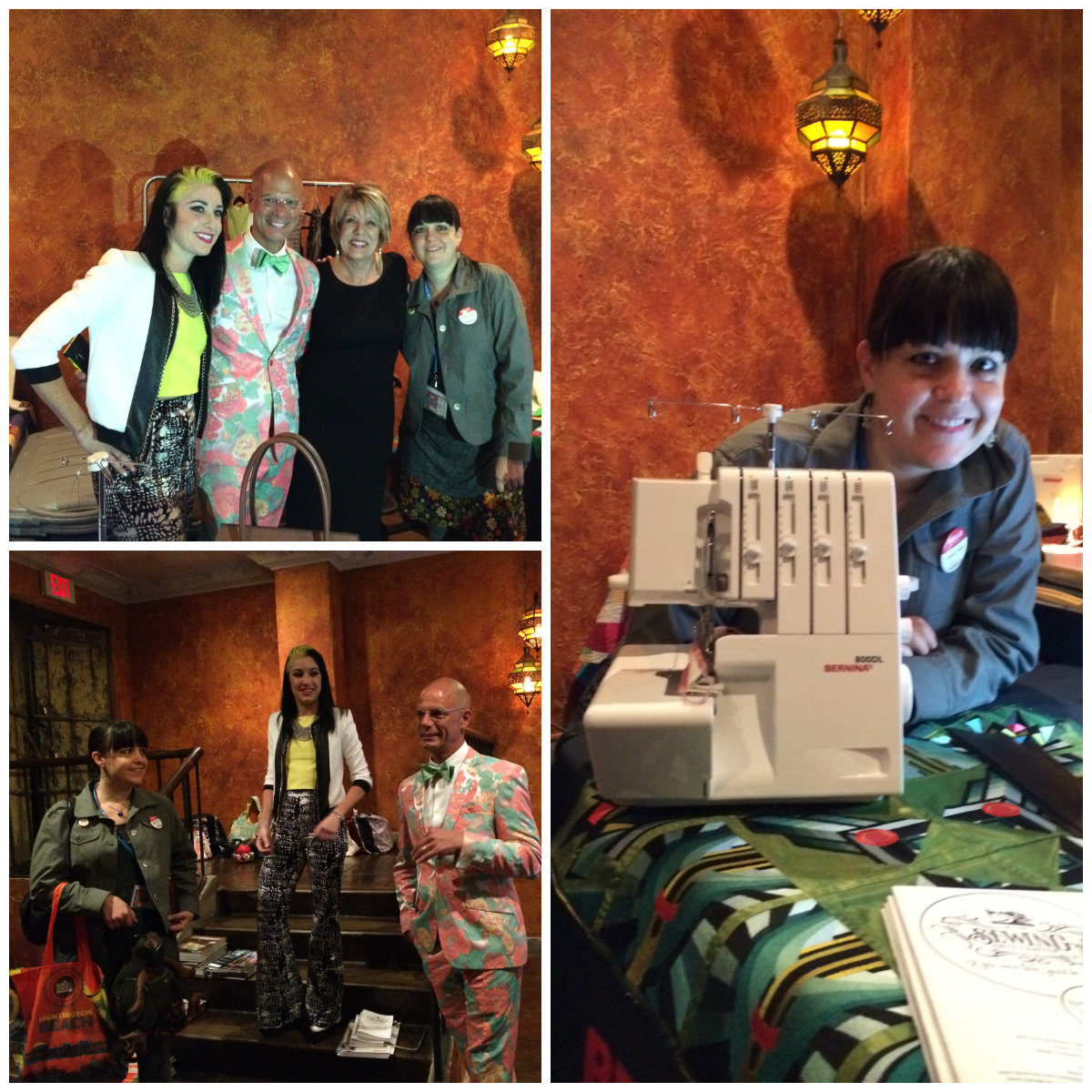 Oh how could I have forgotten about our epic Pattern Swap. Hundreds of patterns were brought in by you. We couldn't even fit them all in one room and poor Liz had to replenish the stock every hour
Thanks for helping out Liz!
Lynda Maynard Seminar
PR Weekend is more much more than just shopping. We actually sew! Our Guest Speaker this year was none other than Lynda Maynard - who has been working with Fit for more than 20 years. When we met for breakfast she said "Isn't Fit Fun?" I knew immediately she was one of us :)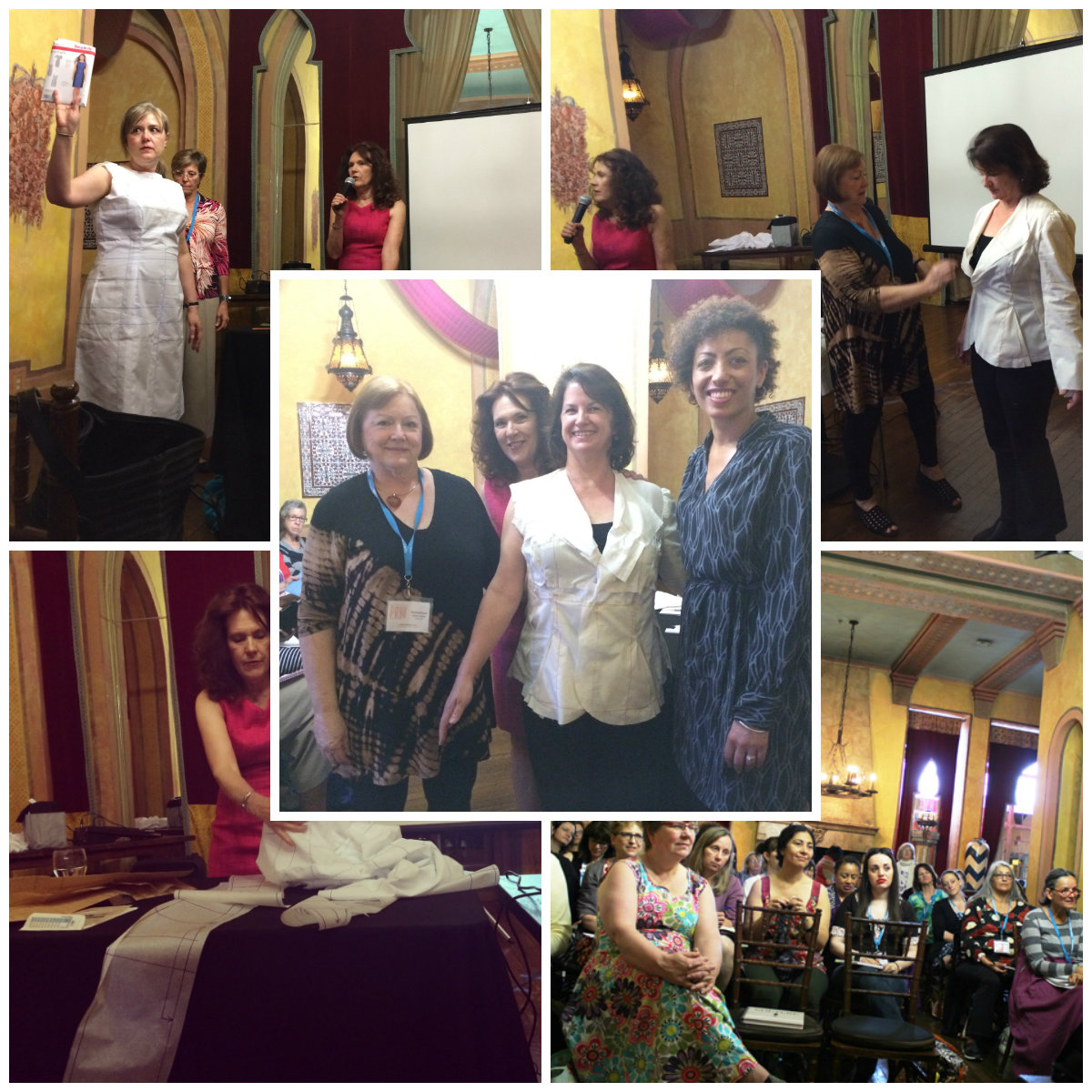 Lynda showed us how to fit a muslin of a sheath dress which was sewn by our volunteer Roseana and later a Jacket sewn by Theresa. This was truly an interactive seminar because so many of you stepped up to the task of slashing, pinning and re-fitting the muslin as Lynda talked us through it. An amazing learning experience. Thanks Lynda.
While we took a long lunch break, Lynda was available to answer even more fit questions. She is clearly tireless becasue in the afternoon session in my debut videography expermient, Lynda demonstrated 5 different couture techniques right there in front of us. I've already used two of them in the top I am wearing today :)
Lynda also gave away a copy of her book - Couture Techniques to our Fabric Queen - Julie Chambers. Wanna know how much fabric was bought during this weekend? 1220!!!! Thanks to Maureen for patiently tallying the totals. How much did Julie buy? We won't tell if you won't Julie!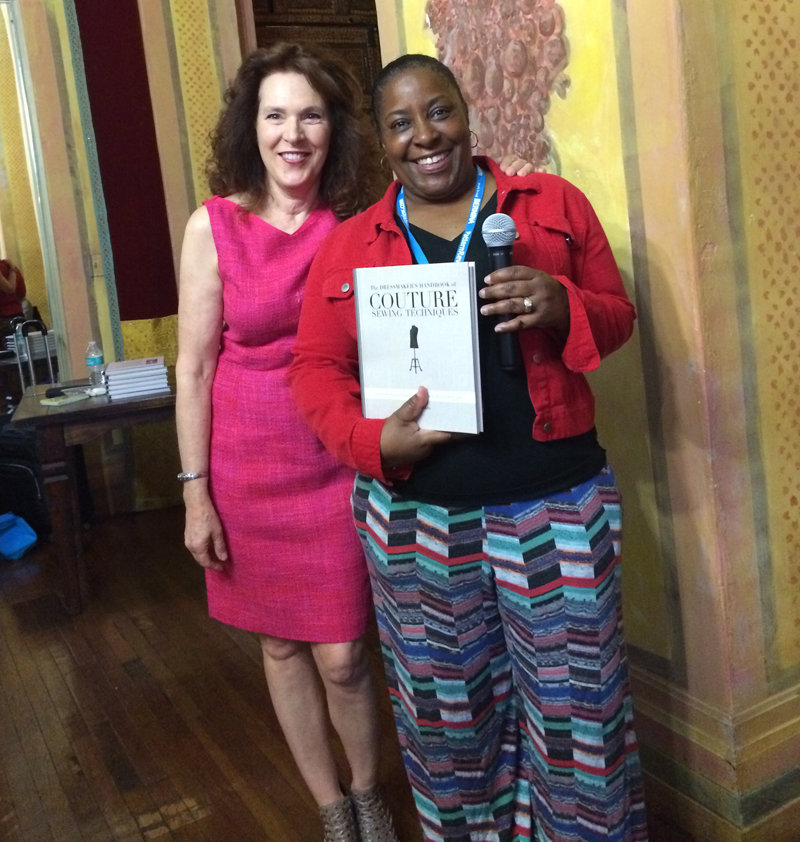 Saturday Night Group Dinner
We dressed up yet again to meet up at El Cholo for our group dinner which was truly delicioso! And there in the midst of smiles and selfies and lots of margaritas I announced the venue and the host of our next PR Weekend - 2016 (our 15th anniversary) - Chicago! We are in your expert hands Tina.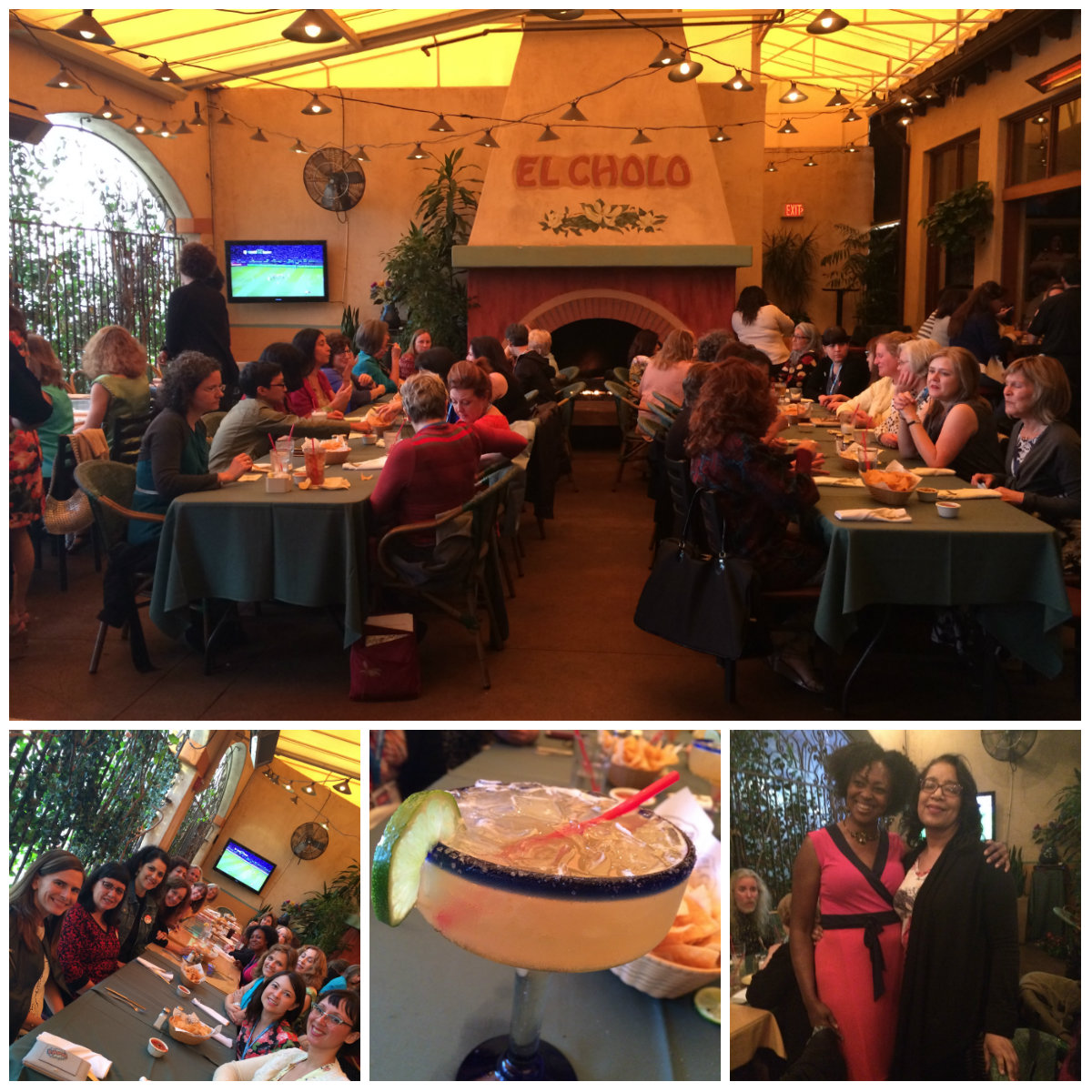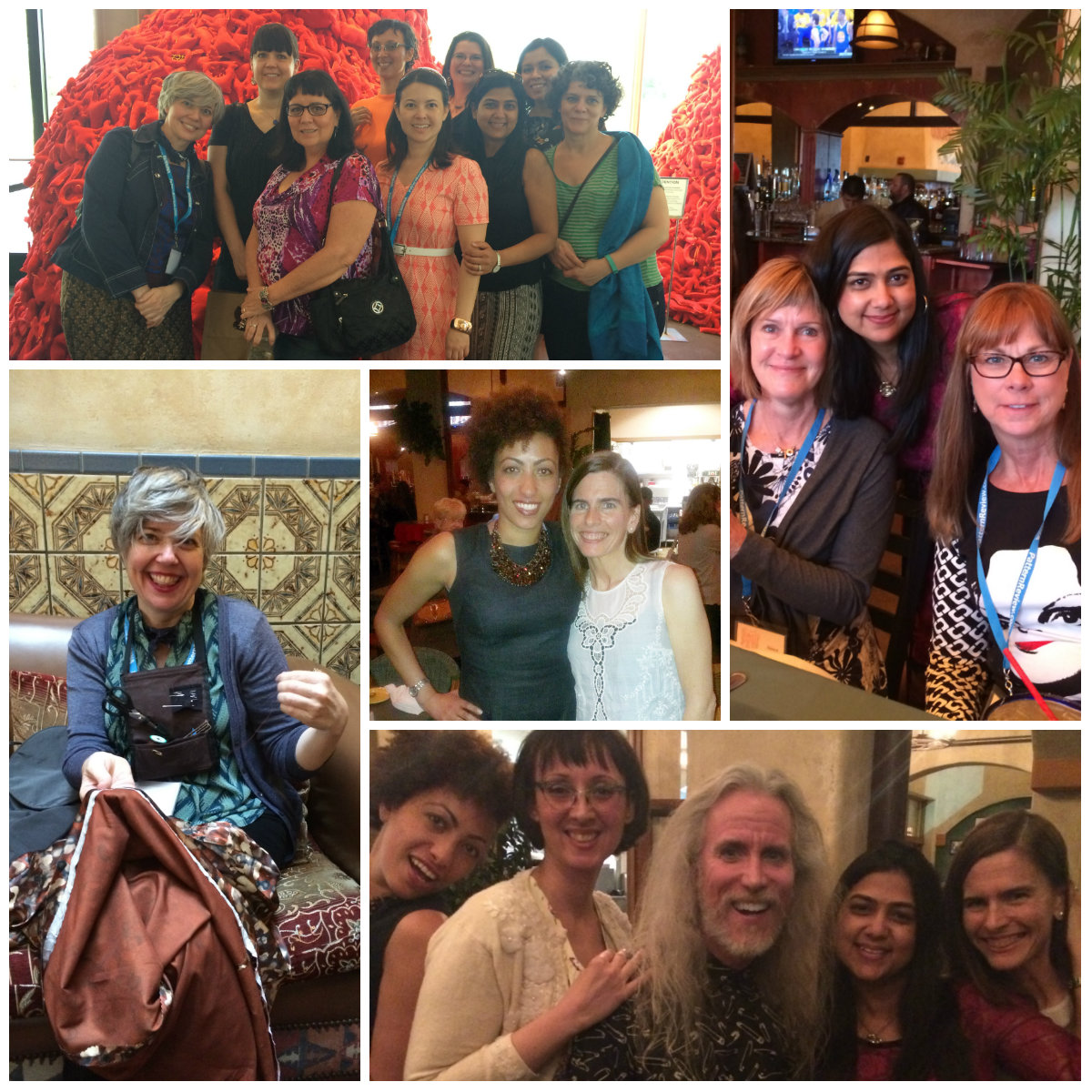 Thanks!
PR Weekend is the highlight of my year. It has been since a dozen of us met up in New York City, 13 years ag. We may be a much larger group today but everything else remains the same. The excitement of meeting each other, making new friends, catching up with familiar ones, showing off our lovely makes and of course fabric shopping!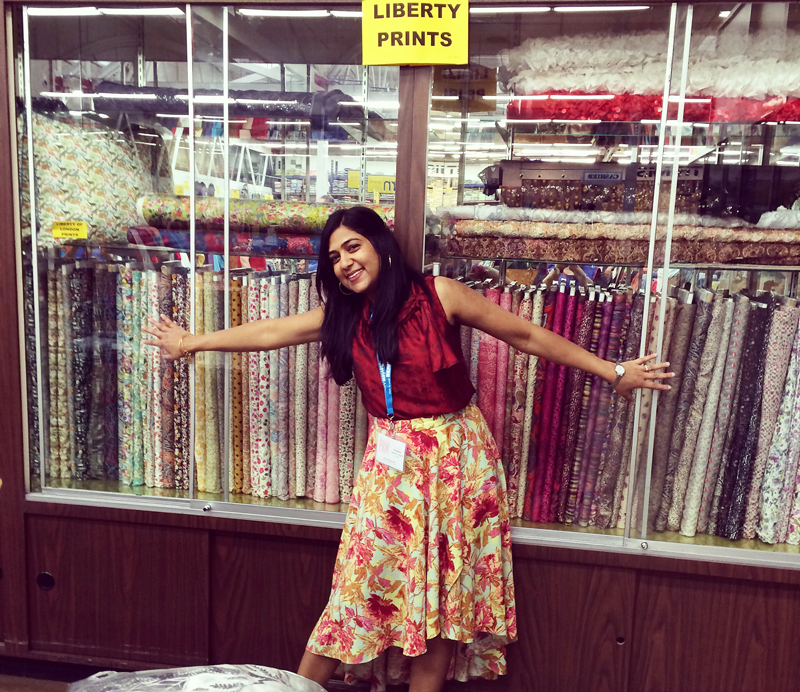 This event is unlike any other event you'd have attended, for it is entirely run and hosted by Patternreview members and volunteers whose only goal is to make this one of the most fun event of the year. Thank you for all of you who made this possible. Special thanks go to Kathi Rank for leading her wondeful team of volunteers and to Bernina for generously sponsoring the Friday night event. Thanks also go to our door prize sponsors Colette Patterns, Sewaholic Patterns and to Catina for her linen packs!
Photo credit to Sue V, Stephanie, LaDonna, Sara and Cara.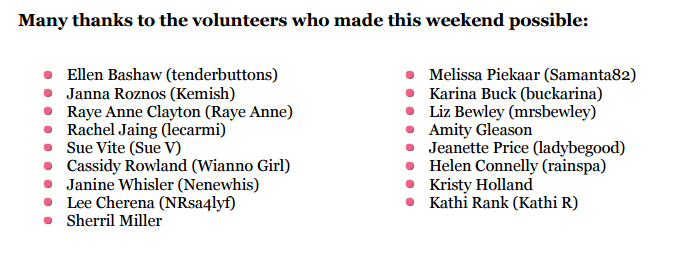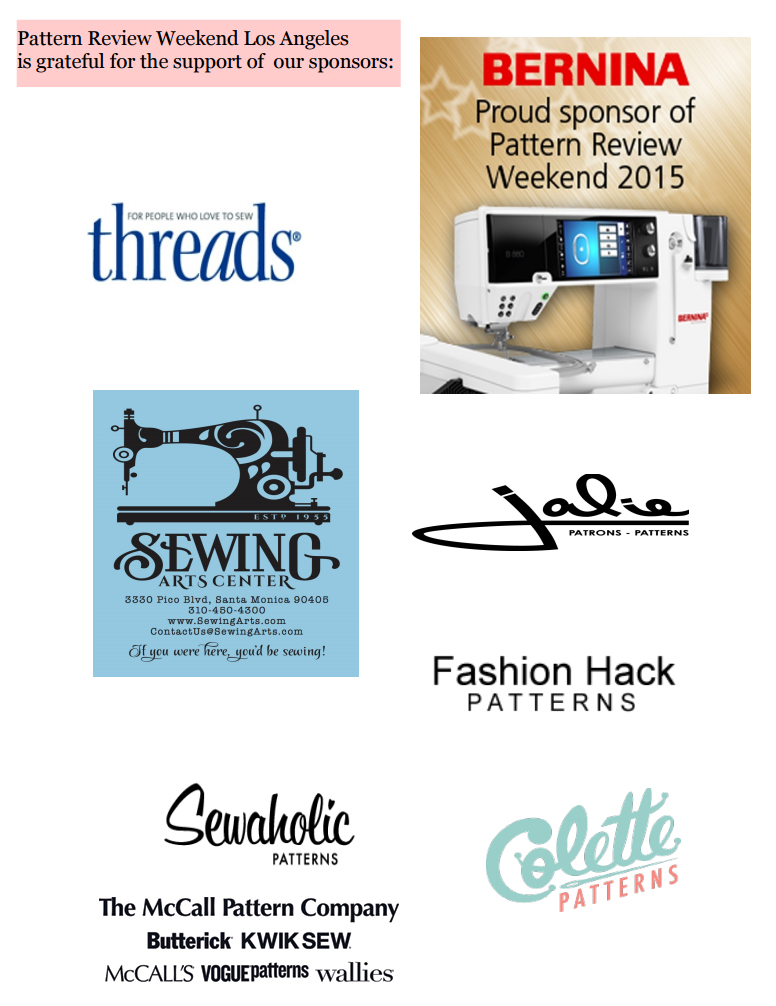 I'll close by quoting my favorite quote of this weekend by Kathi Rank, the organizer of this PR Weekend.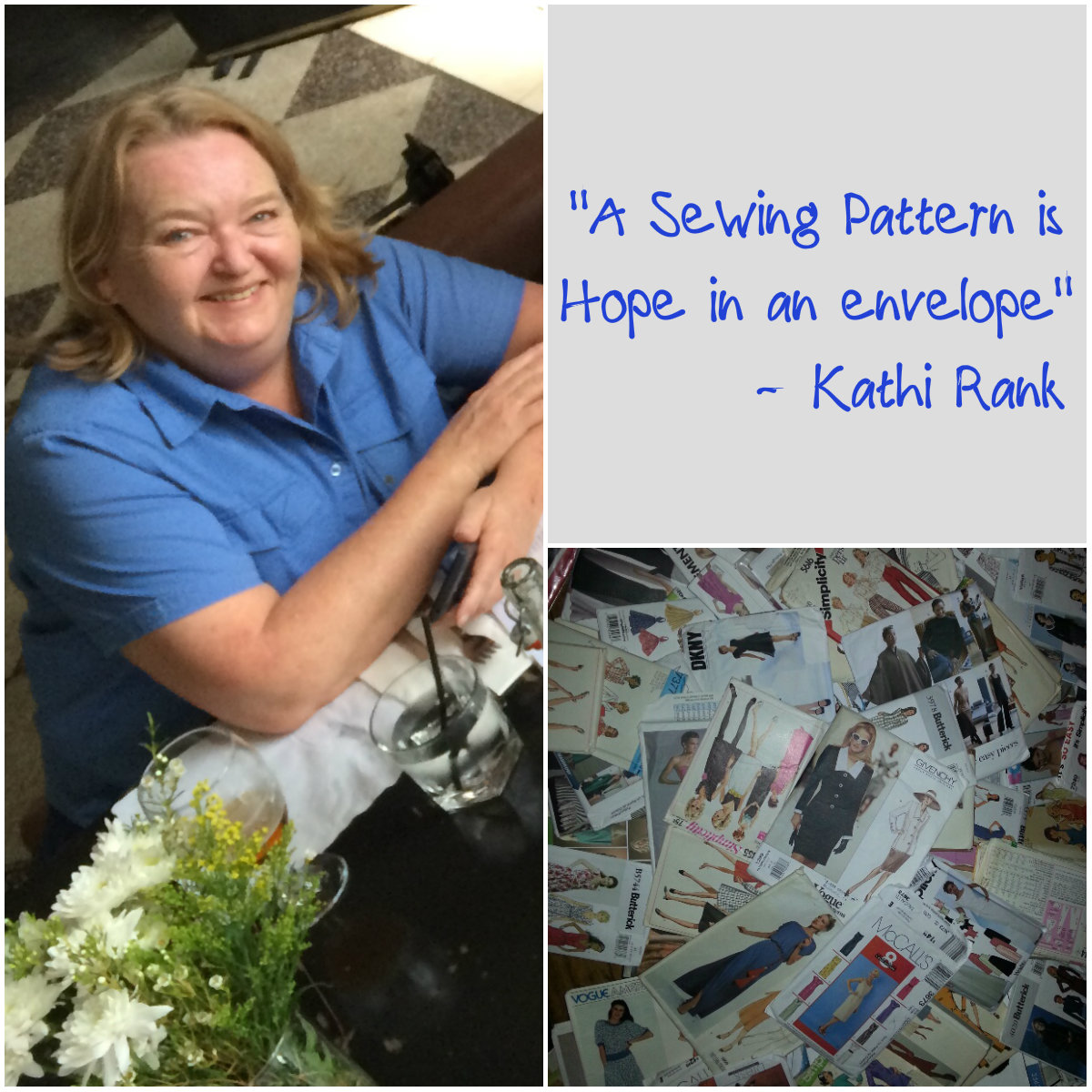 PR Weekend Fabric Show and Tell