First Prize: elainemay For Self Drafted Pattern: 167033-1000 LBD (Givenchy inspired)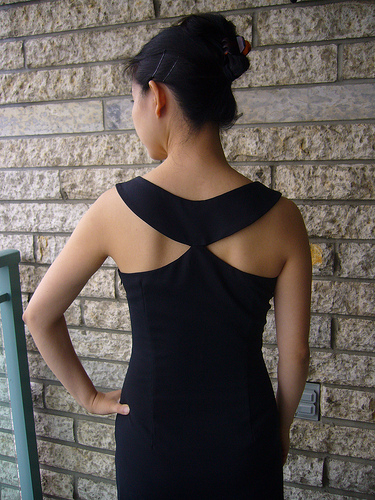 Inspired by Audrey Hepburn and Breakfast at Tiffany's, elainemay created a below-the-knee length slim sheath. Audrey Hepburn's dress in the film was a floor length, gathered waist Hubert de Givenchy gown. One of elainemay's online sewing heroes is BurdaStyle veteran Myk. When she saw the babydoll style dress Myk made that was inspired by the same gown, elainemay began to dream about creating a similar piece. She says, "The LBD contest finally gave me the kick in the pants to get around to drafting it!"

She drafted the pattern for this dress using some pieces from the lining pattern of Burda WoF 5-2008 dress 125 as a block. Having made the Burda dress previously, she knew it had the kind of slim fit she was looking for. She used some deep black wool suiting to create this winning entry.
Second Prize: Idunna For Simplicity: 2550 Misses Dresses: Project Runway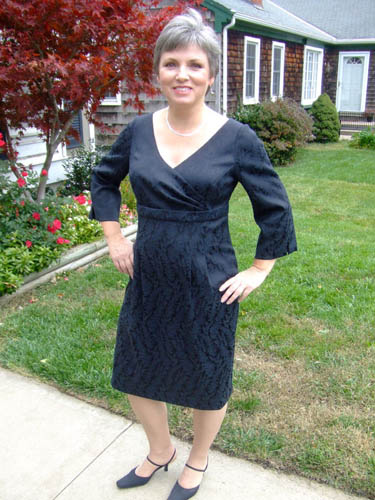 When Idunna decided to make this dress, she realized that she had a hole in her wardrobe...she doesn't have many dresses. So this multi-purpose dress is just the thing for her. In deciding to make this dress, she filled a need for the perfect dress for evening wear, as well as fun daywear (see her photo for The LBD goes Country).

Idunna opted for longer, rather than shorter, sleeves. The dress pattern did not call for a lining, but she added one, following the advice of PR member twistedangel. She loves the style of the polyester rayon stretch jacquard dress and feels it was a great experience for her to sew something new and more complicated.