Viewed 808 times
Reviewed by:
Fictionfan






About Fictionfan
VT USA
Member since: 5/19/06
Reviews written: 35
Sewing skills:Advanced
Favored by: 14 people
notions reviewed: 6
Bio: more...

Posted on:
3/8/14 2:48 AM
Last Updated:
3/8/14 3:28 AM
Rating :
Approx. Price :
$11
Bought from:
Brick & Mortar Store
Photo:
Review Rating:
Helpful by 1 people Very Helpful by 8 people
Category:
Hand Sewing Notions [ Reviews]

What is this notion used for?
Threading hand sewing needles.
The back of the package says it is not designed for round eye or embroidery/tapestry eye needles.
It is designed to be used only with oval eye needles ONLY.
While it is considerably bulkier than the little wire threaders, it is not a large item. It's about the size of a pack of cards, could fit easily into a pocket. It comes in three colors: pink, light green, and purple.

Did you get your money's worth after the purchase?
That depends. I recently bought one of the Clover desk needle threaders on sale at Joann. It was about $11 after the coupon and sales tax, $15.50 to $16.25 full retail cost depending on the color.

I am so near-sighted that I'll probably never need reading glasses (I am over 50, well into bifocal age). By putting the needle onto the thread instead of trying to put the thread into the needle, I can thread most needles quickly without a threader. I was hoping for a quicker way to thread needles, but this device isn't going to speed up my threading. I'd also lose time searching for the thing, since it's unlikely to be where I am when I need to thread a needle.

Because it can't do what I wanted it to do any better than I can do without the device, I'm thinking of returning it or giving it away to my 88 yo relative who quilts with size 10 betweens. It would probably be wonderful little gift for her.

This threader does work. It will thread needles, but it's picky about the needle quality. When the device fails, the thread breaks. The thread will break if you try to use a round eye or embroidery/tapestry needle.

When I first tried it, it seemed to be inconsistently successful in threading a needle.
Here is the Experiment:
To see if it was the device or the combination of needle and thread that causes failure to thread, I tried a variety of needles with a few different threads. I used various sharps and betweens. I have some fairly expensive, high quality, small sharps and betweens down to a size 12. These high quality needles have consistent, smooth eyes that are easy for me to thread. The littlest ones are Clover brand quilting betweens that I just got. I also have some less expensive Dritz Quilting Basket betweens that I got at Michael's a few years ago when I was in search of gold eye needles. These are low quality needles that have inconsistent eye sizes and shapes, rough inside eye edges, and often have a side that eventually threads and the other side that won't thread because of the rougher or narrower opening on that side. They don't seem to bend much, but they are horrible to thread, even with the wire threaders.

The Results:
The desk threader worked just fine with Clover brand needles and the ones I bought from Susan Khalje's online store. It worked most of the time with the Dritz deluxe needles, which are better quality than the low quality ones. The needle threads nearly every time with the high quality needles unless I hold the thread too tight or when the needle isn't quite seated in the socket. The Clover needles seemed to work the best, which I suppose is not surprising. With the inferior, low quality, irregular eye, non-uniform, gold eye quilting needles, the threader failed nearly every time. [ETA: I just wrote a review of these inferior needles. When I went to the manufacturer's website to get the picture, I found out that they are round eye needles! They look like oval eyes to me. No wonder they flunked every single time.]

So, the device works but it is picky about the needle. This experiment demonstrated that low quality needles are not worth the low cost. They might be hard to thread because they are made poorly, not because the needle is small. High quality, uniform needles with oval eyes will thread nearly all the time with the right size threads. Unfortunately, it's faster for me to just thread the needle by hand because I don't really need any threading device.

Is this notion easily available?
Yes, in fabric/craft chain stores, online at various merchants including direct from the manufacturer's website (www.clover-usa.com).

Would you recommend it to others?
If you are looking for a threader for embroidery needles or needles without a smooth oval eye, this device won't help you so don't waste your money.

If you have poor near vision, such as age-related presbyopia (i.e. you need reading glasses because your arms have gotten too short and they are printing books with puny print lately), you might find this notion is well worth the relatively high price. You could buy a lot of the really cheap little wire threaders for the cost of this notion, or go through a handful of the fancier, double-end, wire ones. But you have to be able to see well enough to get that wire into the needle eye, so why not just put the needle onto the thread and forget about threaders? If you can't see the needle eye, this threader will pay for itself in happier sewing because you'll be less frustrated trying to thread your hand needles.

If you can thread needles by hand without trouble, it's likely to be quicker for those with good near vision to thread the needle by hand, making the cost of the threader a luxury.



5 Comments
Login to Add a Comment
Add a Notion Review
Read All Notion Reviews
Understanding Interfacings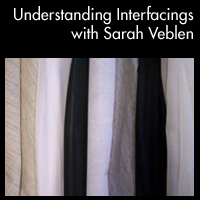 Sew a Designer Unlined Jacket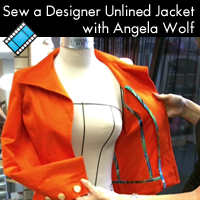 SewBaby Sleeve Saver Smock Pattern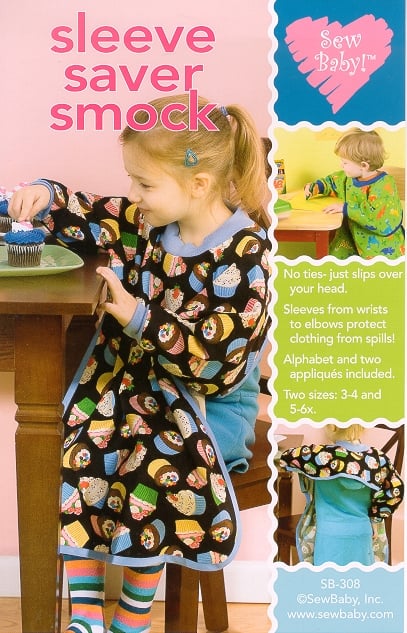 Buy Now
Victoria Jones Collection Child's Hawaiian Muumuu Dress or Nightgown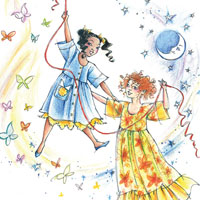 Buy Now