Class Reviews > Elements of Design Editing (Craftsy)

Viewed 1233 times
Posted by:
SandiMacD





About SandiMacD
Member since: 2/8/09
Reviews: 45 (classes: 12)
Skill level:Intermediate
Favored by: 8 people

Posted on:
6/27/14 2:05 PM
Rating:
Review Rating:
Very Helpful by 12 people
Web site/URL:
Marilyn York Reames
Elements of Design Editing
Craftsy Platform

What's Covered
I am one of those folks who know how to embroider but when a design comes out looking bad, I cannot always tell if I have a bad design, the wrong design or if there is something wrong with my technique. If this is you, then you may well benefit from this class.

I think you will find this class quite useful if you are comfortable with basic embroidery and software and are ready to improve your results. I think it would also help those wondering what features they have in their software or even those that are wondering it they need better software. Before taking this class I thought I needed higher end software. After taking it, I am very happy with the editing software that I already have because it works perfectly well to examine the stitches in my design.

Marilyn uses Floriani Pro software and provides designs in every lesson that you can download and use to follow along during the lessons. She walks you through the process of determining if a design is worthy of stitching it out and whether it is worth your effort to tweak it so that you can use it. Some of her lessons cover digitizing software but I have only editing software and found it a good value and well worth taking.

L1- Evaluating Designs
In this first lesson Marilyn goes over how to use your software to see if the design is a good one. She explains basic mirroring, flipping, copying, pasting, rotating, grouping and making a border or frame. She then reviews what missing and wonky stitches look like and how to determine if a bad design file is worth the effort of correcting. She analyzes a well digitized design and points out the critical elements. Next she covers in detail the terms "underlay" and "direction of stitches" and why they brings a design to life and why you can get puckers if a design is not digitized correctly.

By the end of this lesson you will have an in depth understanding of stitch types. You will understand what happens when your software splits a design file and how different software handles splitting differently. You will understand how different machine file formats behave differently during the process of splitting and why thread color information embedded in the fie type may cause frustration at your machine.

L2 Resizing & Density
In this lesson Marilyn shows you how to examine and measure a stitch before and after you resize a design to ensure a good outcome at stitch-out. She discusses steil (satin), fill, run and cross-stitch types and how they respond differently when a design is resized. She explains the changes that occur in lace designs during resizing that will make the design unusable. She also addresses jump and tie-off stitches and under what conditions resizing will turn out OK.

Next she discusses design density and how to decide if a design is too dense to use or if it is worth correcting. She gives a density formula to prevent broken needles, broken thread, thumping, etc. and suggests things you can try. She also goes over software tools that will locate and correct the overly dense areas of your design.

L3 Elements of a Design
In this lesson Marilyn breaks apart a variety of designs and examines them in greater detail. She shows how to manipulate the areas that need modifying. She covers ungrouping of a design element by color and stitch type. She also discusses when you would use 3D or Artistic View and when not to use it to evaluate stitch elements.

She uses a stitch simulator to evaluate stitch details and goes into various functions of Floriani Pro software. Even though I don't have it, I was able to find similar functions in my editing software so I can determine the stitch type.

For those that have a digitizer function, you will learn how to make changes at the stitch level to make your design more personalized. In her discussion of fill vs complex fill stitches, she shows you how they contribute to unwanted density and how to reduce density by altering the stitch length and pattern type.

L4 Design Splitting
In this lesson Marilyn demonstrates the process of using your software's functions of "lock", "unlock" and "hide" and how they relate to grouping and ungrouping of colors and stitches. After isolating the precise element(s) you need she shows you how to do the same with the rectangle capture function.

She reviews file renaming/saving to preserve the original design and then shows you how to use the create stitch function to create a design element. You will see how to isolate an element and turn that element into a border design by using your software's repeat feature. You also will learn how to identify excess thread changes and how to use your software to do color sorting (re-sequencing) to reduce thread changes.

L5 Modifying Split Designs (uses digitizing features)
In this lesson Marilyn demonstrates how you can re-shape an outline that has moved away from the fill stitch in the design. She explains the process of removing a large group of stitches (such as a hat) with a lasso and then how to create a curved outline by adding and manipulating stitch points. She then covers all the details of adding fill stitches to the newly defined area and adding other stitches for depth, dimension and character.

L6 Underlays and Pull Compensation (uses digitizing features)
In this lesson Marilyn defines underlay stitches and explains how they function differently in designs and in fonts. She discusses use of the "angle tool" and how changing the angle can improve support of the design during stitch-out.

She goes into the types of underlays and why their distance may vary from the edge of the design. She covers the better underlay patterns for terry and puffy foam and how to use the "edge travel" feature in badges. She also explains the properties of steil (satin) stitches in underlays to include: contour, perpendicular, parallel, lattice, full lattice, zig-zag, full lattice & center line and when you would use them.

She ends the lesson by defining "overlap" and showing when it contributes to density problems. She discusses how to use your software to find overlap and that various software will handle overlap differently. She wraps up this lesson with how to adjust Pull Compensation (pull/push) so that a design can be stitched on a stretch or plush fabric without tunneling.

L7 Fancy Fills (uses digitizing features)
In this last lesson Marilyn provides 2 adorable designs to "just have some fun". She reviews all the skills that you learned throughout the class. You will get to play around with modifying existing stitch types and fill patterns to personalize the designs to your taste or to fit a specific project.

She also demonstrates how to use an elliptical and a rectangle shape to add various fill types (standard, emboss, motif, shape, contour, stippling, wave) and how to adjust density and stitch length for various effects. The lesson ends with a demonstration of how changing the "center radius" gives you special effects like wood grain and how other effects can be used to create designs for quilting or trapunto


CONCLUSION
This class was on sale for $30 and even though I do not own digitizing software or ever plan to digitize I found the information extremely valuable. I will save a lot of time and frustration, not to mention fabric and supplies because I can use my editing software before stitch out to examine the stitches in my design. I feel I can now identify whether or not my design is a good one and if it is digitized appropriately for where I want to put it. I also have a much better understanding of the features in my software and how to use them.

<< Previous
Next >>
Comments
Login to Add a Comment
Online Class
Clone Your Favorite Garment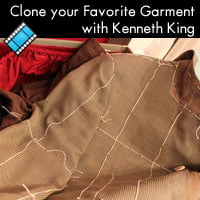 Online Class
Bust Adjustments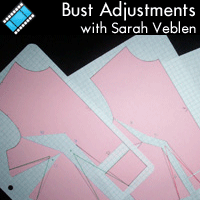 Christine Jonson Wrap Top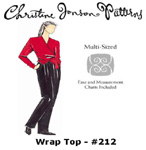 Pattern Details
Paradiso Designs Kimono Jacket Formula Pattern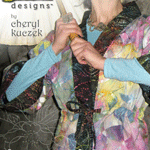 Pattern Details