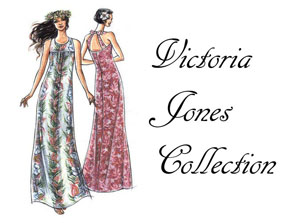 Notify Me when new patterns are available for sale

Shipped from Victoria Jones Collection (Hawaii, USA)



Show All

Recent Catalogs

Oct-2013
Apr-2015
Categories
Accessories
Coat/Jacket
Costumes
Dresses
Formalwear
Kids(boys & girls)
Mens - Shirts
Tops
Victoria Jones has designed and drafted patterns for the Victoria Jones Collection since 1990. Her focus is on a well fitting garment which adds grace to the wearer. The garment must also be well balanced and attractive while in motion -- to Victoria, it is not enough to look good on just one side or in a pose.

Victoria's original Hawaiian and Resort collection has now been joined by two more pattern lines. The Porch Swing series develops a soft and easy sitting-on-a-porch-swing theme. The Working Ranch series will be primarily shirts, based on Victoria's experiences working on a sheep ranch.

Victoria now divides her time between her pattern work and ranch work and wonders why there seem to be too few hours in a day.